Representatives from 36 countries on the governing council of ICAO have established an aviation recovery task force and aims to have its first outcomes by the end of May.
ICAO says the mission of the new task force is to identify and recommend "strategic priorities and policies" for states and industry operators in the restoration of international air transport.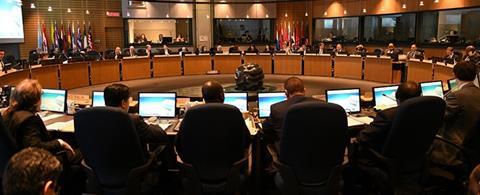 "In these uncertain times and exceptional circumstances, ICAO is being called upon to rescue international air transport and facilitate the resumption of operations," said ICAO council president Salvatore Sciacchitano, addressing the first meeting of the task force.
"As we know, air connectivity is critical to economic and sustainable development in every region of the world. Consequently, an effective recovery of international air transport is essential to support the post Covid-19 pandemic worldwide economic recovery," he adds.
ICAO says the new task force is composed of council members and high-level aviation industry representatives including the director generals of all major air transport industry associations. UN entities such as the World Health Organization and the World Tourism Organization are also represented, as well as the heads of several national and regional aviation administrations.
Airline body IATA has been flagging the need for a co-ordinated approach to restoring international travel and the importance of the role ICAO can play in this.
"We were shut down by unilateral actions of governments. But the restart will require governments to work together. We need a strong ICAO now more than ever," IATA director general Alexandre de Juniac said during a media briefing on 28 April.
"In recent weeks we have heard that some states are finding it difficult to meet their funding commitments to ICAO. We understand that the demand on state resources is great. But I encourage them to prioritise keeping ICAO strong," he adds.
"An orderly restart for aviation needs co-ordination that only ICAO can provide. This will be critical for the economic recovery from the Covid-19 crisis."