United Airlines has asked union leaders to support an effort to secure "government assistance", a move coming in response to tumbling demand as the coronavirus engulfs the industry.
The "call to action for government assistance" will come later this week, United's Master Executive Council (MEC), which represents the company's 13,000 pilots, says in a letter to members on 15 March. The MEC is the company's chapter of international pilot union Air Line Pilots Association.
The letter says that during a 15 March call with leaders from several unions, United chief executive Oscar Munoz and president Scott Kirby "asked for labour's help".
"As we do not know the duration of this event, temporarily reducing cash burn over the short-term is critical," Todd Insler, a United captain and chairman of the MEC, writes in the letter. "With the reduced flying, the company is doing all it can to avoid furloughs. This is one of our, and management's, primary goals."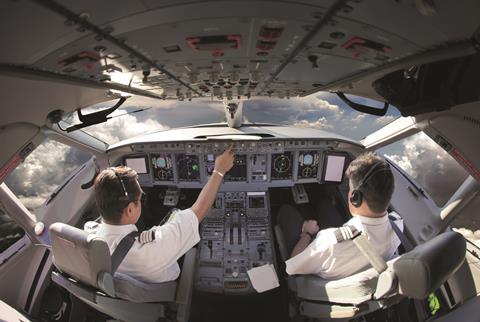 The type of government assistant that might be requested remains unknown. United did not respond immediately to a resquest for comment. Other US airlines and US airline trade group Airlines for America also did not respond.
Insler's letter says the airline's unions will be meeting with management again later this week to discuss unpaid leave and "other creative options to mitigate adverse impacts on our pilots".
The crisis, he says, is not the pilots' fault, but "it is proving to once again be our problem. We will soon be faced with difficult decisions necessary to ensure United maintains the ability to resume normal operations after this pandemic subsides".
So far, major US airlines have been quiet about asking for government assistance in the wake of the crisis which they anticipate will cost them billions of dollars over the course of the year. Over the weekend, American Airlines slashed 75% of its international capacity, and Delta Air Lines said it would be grounding 300 of its aircraft – about 30% of its fleet.
United's Munoz said on Sunday his carrier too is expecting to make deep cuts, and will reduce capacity by 50% in April and May.
"These drastic flight suspensions will help protect not only the public's health, but the health of ourselves, our families and fellow employees. They will also reduce United's cash burn to a more sustainable level, which is one step towards protecting the financial future of our airline," Insler adds.