FlightGlobal's survey of the crisis-hit airline industry reveals progress has been made on improving the C-suite gender balance over the past 12 months – but from a low base
The world's largest passenger airlines are employing more women in top executive roles this year, albeit on a trend that means it would still be the mid-2050s before half of such positions have female incumbents, according to FlightGlobal's latest survey.
Some 14% of the roles surveyed across the top 100 airlines had female incumbents in early October this year – continuing the one percentage point increases seen in each of the past three years.
The year-on-year increase this year, however, marks the largest rise in women employed across the six roles in absolute and percentage terms since FlightGlobal began tracking trends in 2017. There were 85 female incumbents in 2020 compared with 76 last year – an increase of 12%, versus rises of 5.5% (four women) in 2019 and 11% (seven women) in 2018.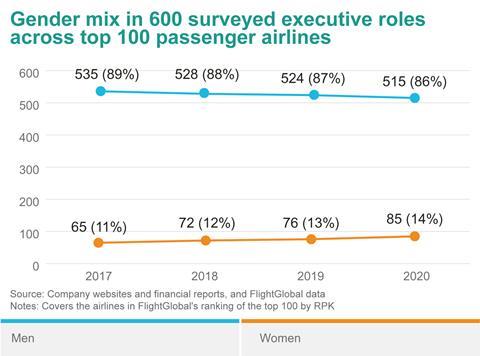 Overall, the survey – of carriers and groups that feature in FlightGlobal's top 100 World Airline Rankings by 2019 revenue passenger kilometres – continues to show the sector lagging trends in the wider economy.
It also shows that women are still rarely appointed to the chief executive role at carriers, with just three of the top 100 having a female incumbent in that role – a drop from four last year.
Across the six surveyed positions, only four of the top 100 carriers had a 50:50 female-male split, with no operators having women working in a majority of the roles.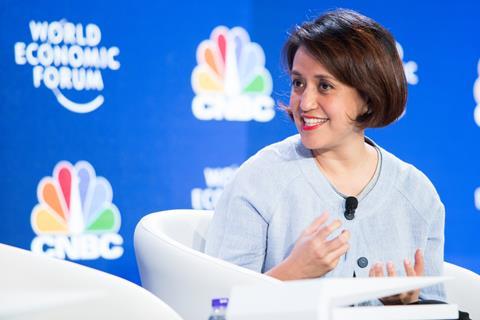 That reflects mixed progress from an industry that went into the coronavirus crisis having identified a better gender mix in C-suites as an important priority.
Indeed, European commissioner for transport Adina Valean said in mid-October that the coronavirus crisis is an opportunity for the sector to address the "poor" gender imbalance among workers.
Speaking at the International Aviation Women's Association annual conference in October, Valean noted that "gender balance is not an objective in itself".
Rather, she cites research showing that "a lack of diversity in the workplace leads to other problems such as harassment, bullying or depression", while more-balanced workplaces bring "major benefits to society, the economy, the environment, and the companies themselves, enabling them to perform better".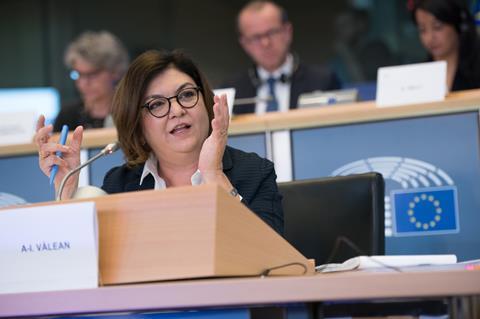 That is crucial, because "we need, more than ever, as many brilliant minds around the table as possible", Valean states in reference to the air transport sector's current predicament.
In terms of encouraging signs, this year's survey marks the first time that a region – North America – exceeded 25% of senior executive roles being taken by women.
This indicates genuine progress towards meeting the goals of IATA's 25by2025 initiative – one of the industry's most high-profile efforts to increase female representation at the top of airlines.
Launched in 2019, the IATA programme encourages airline members to sign up to a commitment to increase the number of women in senior leadership positions and under-represented areas by 25% – or to a minimum of 25% – by 2025.
Speaking during a panel discussion at this year's FIA Connect event in July, Adefunke Adeyemi, IATA's regional director of advocacy and strategic relations for Africa, points towards the 25by2025 scheme as a sign of "moving the needle" in gender representation at the executive level within airlines.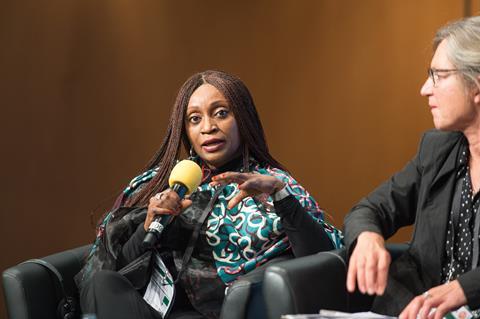 "[This] is not a sort of, you know, 'playing the gender card' kind of metric for us. Not at all. It's actually designed to address … the two sorts of problems: of unconscious bias … as well as the tendency of women themselves not to lean in," Adeyemi said.
RESULTS OVERVIEW
Overall, of the 600 senior executive roles surveyed in October 2020 – covering chief executive, chief financial officer, chief operating officer, chief commercial officer, chief information officer and HR director, or their equivalents – some 85 were taken by women. This compares with 76 in 2019, 72 in 2018, and 65 in 2017.
The HR director role continues to see the most female incumbents, at 37 this year. That is followed by the chief financial officer position with 15, chief commercial officer and chief information officer with 13 each, chief operating officer with four, and chief executive with three.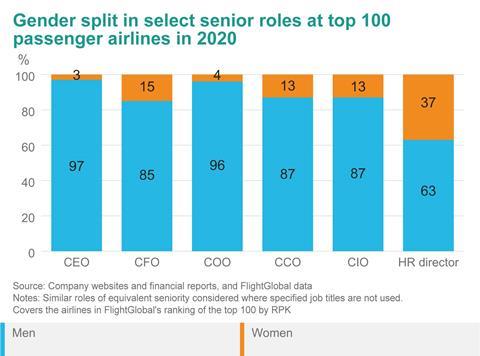 The year-on-year increases in 2020 comprise one more female chief financial officer, a single extra female chief operating officer, three more women in the chief information officer role, and five more women in the HR director role.
The number of female chief commercial officers was flat, while women in the chief executive role fell by one in this year's survey.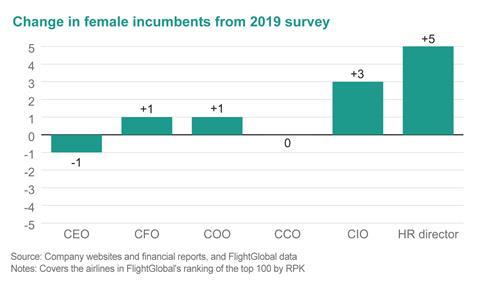 Removing the HR director position from the survey continues to paint a bleaker picture in terms of gender diversity, but also one that has been on a trend of marginal improvement since 2017. Of the 500 roles remaining when the HR director position is removed from the survey, some 48, or 10%, were held by women this year, compared with 44, or 9%, in 2019; 36, or 7%, in 2018; and 32, or 6%, in 2017.
Splitting the results by business models shows network carriers lagging others in terms of women in the C-suite, with the gap widening by a single percentage point year on year.
Across the 64 network carriers in the top 100, 13% of C-suite roles were taken by women.
Across the remaining 36 operators – the vast majority low-cost carriers, alongside a few leisure airlines – women took 16% of executive roles.
Split by business model and job role, the only outlier from a broadly harmonious trend was the chief operating officer role, with three of the four female incumbents across the top 100 airlines working in the low-cost/leisure sector.
CHIEF EXECUTIVES
Only three chief executives at the top 100 airlines are women: Air France's Anne Rigail, Air Europa's Maria Jose Hidalgo, and VietJet Air's Nguyen Thi Phuong Thao.
Last year, the total was one higher thanks to Zuks Ramasia's time as acting chief executive at South African Airways.
Since then, Ramasia has left SAA, and the ailing airline has dropped out of the top 100 carriers by traffic anyway.
Outside the top 100 carriers there are other examples of female leaders, including RwandAir's Yvonne Makolo, Wingo's Carolina Cortizo, Blue Air's Oana Petrescu, Transavia France's Nathalie Stubler and Indonesia AirAsia's Veranita Yosephine Sinaga.
Speaking to FlightGlobal earlier this year, Makolo acknowledged that the airline sector has taken steps to address the gender imbalance, she also noted that "a lot more work needs to be done to really bring more women into the industry".
"There is a gap, definitely, and I don't think I should stand out as a woman in aviation. It should be the norm – more than 'there's the one woman CEO'.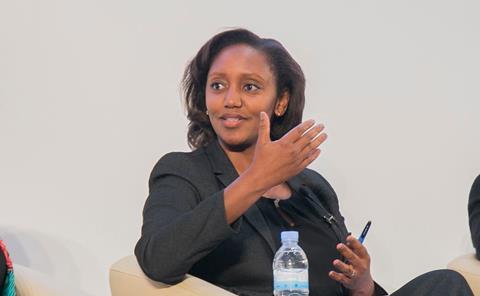 "The good thing is, everybody recognises that there is an issue there, and IATA is addressing it and different organisations are addressing it, so I look forward to seeing more women in the aviation industry at leadership positions."
Since the deadline for this year's survey, Virgin Australia – which did make the top 100 airlines list this year – announced that the former head of Jetstar Group Jayne Hrdlicka would become the airline's new chief executive later in 2020.
OTHER NOTABLE APPOINTMENTS
Across the rest of the C-suite there have been a number of notable appointments in the past 12 months.
Among them, Vanessa Hudson became Qantas Group chief financial officer in October 2019.
Shilpa Bhatia became chief commercial officer at SpiceJet in February this year, while Charlotte Svensson took up the role of chief information officer at European carrier SAS in the same month.
At Iberia, Maria Jesus Lopez Solas became commercial, network development and alliances director in September this year.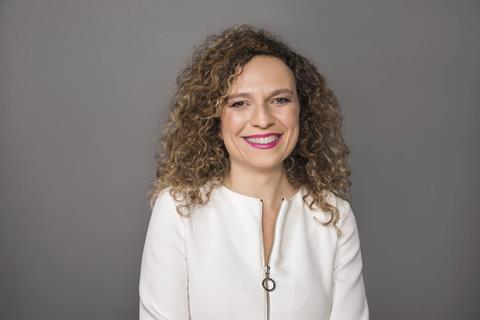 More recently, Leanne Geraghty was appointed as Air New Zealand's chief customer and sales officer in October.
SPLIT BY REGION
North America is again significantly ahead of other regions in terms of women in the C-suite, with some 29% of surveyed roles taken by women across the 14 carriers in the top 100 – albeit more than half of them were accounted for by the HR director position, with a female incumbent in that role at 10 of the 14 carriers surveyed.
In Air Canada, North America also features one of the few airlines that had female incumbents in 50% of the roles surveyed.
AirAsia Group, Air New Zealand and TUI Group were the only other carriers in the top 100 to achieve that 50:50 split, with no operators having more women than men in the six roles.
This nevertheless marks a minor uptick from the 2019 survey, when three carriers had a 50:50 split.
On a regional level, Asia-Pacific – across 36 carriers in the top 100 – and Europe – 32 carriers – both saw upticks in female representation year-on-year, at 15% and 18% female incumbents respectively.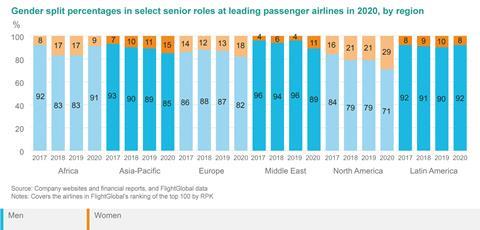 Across the Middle East, ailing El Al continues to account for two of the four women in the surveyed C-suite roles across seven airlines.
In Latin America, a trend of slight year-on-year improvement in gender balance was reversed this year across the nine airlines in the top 100.
The relatively small number of African carriers – two in this year's top 100 – means year-on-year comparisons are difficult, but the region has seen a relatively high proportion of women in senior roles among its smaller carriers.
COMPARED WITH THE WIDER ECONOMY
FlightGlobal's survey shows that the airline industry continues to lag the wider economy in terms of women in C-suite roles.
Data released in September by non-profit organisation Catalyst – which works to build workplaces "that work for women" – shows some 32 chief executives among S&P 500 companies were women, based on the December 2019 S&P 500 list. That translates to 6.4%, versus just 3% across the top 100 airlines.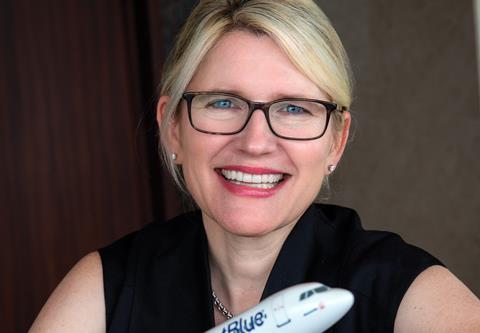 Airlines also trail FTSE100 firms. Data from financial services company IG shows in a report released earlier this year that 5% of FTSE 100 chief executives were women.
Across other roles in the C-suite, the airline industry is also behind wider trends.
Grant Thornton's Women in Business 2020 report – which surveys thousands of mid-sized firms across different industries – shows, for example, that some 30% of chief financial officers were women, versus 15% at the top airlines.
Airlines also trail the wider economy in the chief operating officer role – 4% versus 18% – the chief information officer role – 13% versus 16% – and the chief people officer position – 37% versus 40%.
NOTES: FlightGlobal's survey of gender diversity in the top 100 airlines is based on publicly available data. The primary sources are company websites, financial reports and FlightGlobal data. Research was undertaken through to early October 2020. Given the fluid nature of employment, the survey can only give an indicative snapshot of the industry. The 100 airlines and groups surveyed are drawn from FlightGlobal's 2020 ranking of carriers by full-year 2019 revenue passenger-kilometres (RPKs). Similar roles of equivalent seniority are considered where the specified job titles are not used.