Airbus's advanced wing demonstrator, based on a Cessna Citation VII business jet, will include actuation technology from US manufacturer Curtiss-Wright.
The 'eXtra Performance Wing' programme will examine active wing control through features such as gust sensors and pop-up spoilers.
Among these is a semi-aeroelastic hinge which will provide an "intelligent wing-tip", says Curtiss-Wright, potentially supporting the reduction of carbon dioxide emissions.
The company will supply an actuation system to control the hinge on the scaled demonstrator aircraft.
Curtiss-Wright says the system will include a "complete package" of equipment and capabilities to enable the semi-aeroelastic hinge function.
"[This] technology enables a more efficient wing design that improves aircraft fuel burn and reduces environmental impact," it adds.
"The demonstrator will improve and optimise wing aerodynamics and performance for future commercial aircraft, regardless of propulsion solution and aircraft configuration."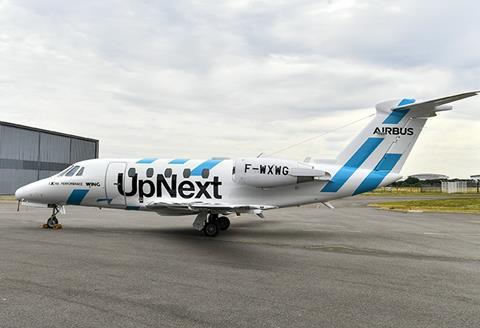 Biomimicry, the application to technology of designs found in nature, has played a role in the programme.
Airbus, which has conducted windtunnel testing of the Citation model, has also previously flown a small-scale version of the hinged wing on a demonstrator through the 'AlbatrossOne' project.