Airbus chief executive Guillaume Faury is calling for an "urgent reframing" of the debate over the aviation industry's impact on climate change, arguing that the sector's "role in society" is at risk amid growing calls for a reduction in flights to curb emissions.
A combination of coronavirus-related travel restrictions and mounting public concern about the environment means that reducing the air transport sector's carbon-dioxide emissions "is now a priority", writes Faury in a 25 September statement posted on Airbus's website and across its social-media channels.
"The 2020s hold the promise of far-reaching progress towards zero-carbon aviation and governments are providing new impetus as they commit research funding to sustainable aviation," states the Airbus chief. "That's why the debate in Europe and across the globe needs urgent reframing."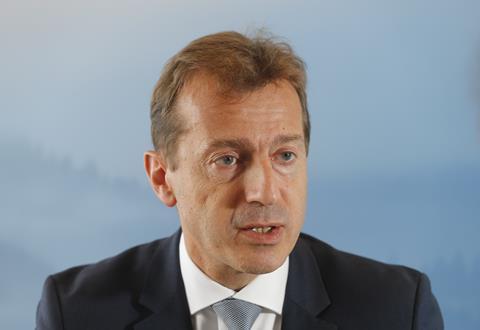 Citing the European airframer's ambition to build "the world's first emissions-free airliner by 2035", Faury asserts that the aviation industry is "entering a period of innovation to match anything since the dawn of air travel". He wants to see this narrative leading the debate, alongside the benefits of commercial aviation, which he identifies as its support of "more than 80 million jobs worldwide" and its uniting of "people, cultures and businesses".
His comments signal the pressure the sector is under as it is squeezed on one side by the devastating impact of ongoing border restrictions amid the Covid-19 crisis, and on the other by growing calls for businesses to build back sustainably and transition to a greener economy post-pandemic.
Earlier this month, the European Commission presented its plan to reduce EU greenhouse-gas emissions at least 55% from 1990 levels by 2030. It has previously discussed measures such as taxing aviation fuel to help meet its targets. Some governments in Europe have also built green conditions into their bailout plans for national airlines.
In a recent report, Moody's Investor's Service suggested that such conditions could trigger "credit-negative outcomes" for airlines.
"Including environmental requirements as a condition for the European Commission to approve the support packages for the airline sector could lead to credit-negative consequences, depending on the national specifics in the state aid packages," writes Stanislas Duquesnoy, a senior vice-president at the ratings agency, in the report.
However, he adds that airframers and engine producers "could benefit from the move to cut CO2 emissions more quickly, as the most efficient choice for airlines is switching to new energy-efficient aircraft with next-generation engines".
Faury says that tackling climate change – "the biggest challenge of our time" – requires a "rapid transformation of everything" which, in turn, depends on "the urgent deployment of vast amounts of capital". But such investment is constrained as many borders remain closed, he asserts.
"All this explains why the safe, swift revival of air travel can help heal the wounds of this crisis," Faury argues.
Environmental campaigners, however, contend that time is running out for global temperatures to be kept within the Paris Agreement's pledge of between 1.5 and 2 degrees Celsius above pre-industrial levels. They say measures should be taken to reduce the number of flights operated while new technologies to reduce CO2 emissions from aviation are being developed.
In a recent Twitter post, the UK-based Aviation Environment Federation warned that technological solutions "won't be ready soon/cheaply enough to mean we don't need to think about cutting demand" for air travel.