Canadian aerial firefighting specialist Conair Group is purchasing another seven De Havilland Dash 8-400 turboprops for conversion into airborne tankers.
It is sourcing the aircraft from Kirk Aviation, via asset manager Aergo Capital.
Aergo says it handed over the final Dash 8 to Conair in July. It identifies this last airframe as MSN4256, which was formerly operated by German regional carrier LGW.
LGW had a fleet of Dash 8-400s which it was operating for Eurowings, but filed for insolvency in 2020.
Purchase of the Dash 8s has been "complex", says Conair chief Matt Bradley, but was achieved through "dedication and effort" from all parties.
Conair is reinforcing its capacity in order to offer firefighting support to countries which are facing greater risks of wildfire.
"They can pro-actively build their response capacity for upcoming fire seasons by contracting the most modern airtanker available in the world today," says Conair vice-president of business development Jeff Berry.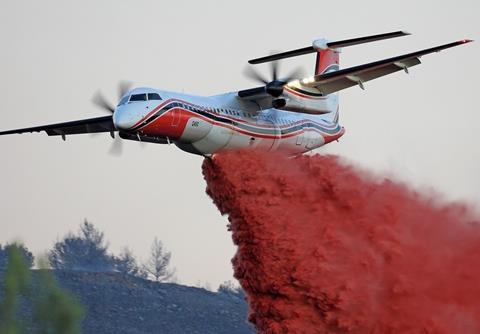 Conair aims to convert the additional Dash 8s over the next two years, and either sell them to governments or offer long-term operating contracts for firefighting.
Berry says the conversion capability means the company can produce a new tanker every 75 days. The first of the newly-acquired aircraft will undergo conversion at Abbotsford this winter.
Conair's latest purchase follows its acquisition of 11 ex-Flybe Dash 8-400s, to upgrade its fleet, in 2021.
"Countries are facing escalating wildfire behaviour," says Bradley. "Many are challenged by limited aerial firefighting resources or ageing fleets in need of modernisation."
He adds that the supply of large airtankers is "limited" and the Conair fleet expansion will enable the company to support regions adapting to a changing wildfire environment.
Conair has four Dash 8-400s in British Columbia, two in Alaska, one in Australia and one in France, while its US-based subsidiary Aero-Flite has two on contract in Washington state. It says all the aircraft from the 2021 acquisition will be operating as airtankers by the end of this year.