US aerial firefighting specialist Aero-Flite has been cleared to conduct De Havilland Dash 8-400 tanker operations following regulatory approval of the type.
The US FAA has granted a supplemental type certificate to the Dash 8-400AT variant, through which the turboprop has been modified for fire attack.
Aero-Flite says it will operate two of the aircraft this year under a contract with Washington state, and will make the type available to other agencies including the US Forest Service.
The operator – which has previously focused on De Havilland CL-415 and BAE Systems Avro RJ tankers – has been preparing for the FAA clearance, with seven pilots on standby ahead of certification.
Aero-Flite is a division of Canadian firefighting service Conair Group, which has built a fleet of Dash 8s for modification including several airframes formerly operated by UK regional carrier Flybe.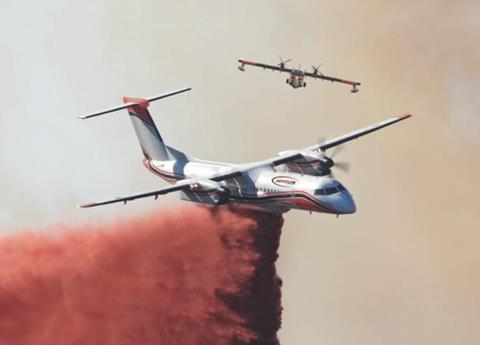 Conair vice-president of business development Jeff Berry says the Dash 8 exceeds all the required performance criteria, and serves as a "manoeuvrable and stable platform".
Aero-Flite general manager Christ Niemann says the type offers "greater flexibility and responsiveness" and lower fuel-burn than larger firefighting tankers, without compromising heavily on payload capability.
"It can operate from shorter runways at higher elevations, positioned in smaller airtanker bases located closer to where wildfires occur – meaning a fast response to the fire and back," he adds.
Aero-Flite says it intends to expand its fleet of Dash 8-400ATs following the regulatory approval.