Lilium has secured a firm 10-unit order for its Lilium Jet from recently appointed Dubai-based dealer ArcosJet and has also quietly upped the quantity of Pioneer Edition jets it intends to build.
Deliveries of the electric vertical take-off and landing (eVTOL) aircraft – all of which will be four-passenger Pioneer Edition jets – will start in 2026, says ArcosJet's Yuri Dzun.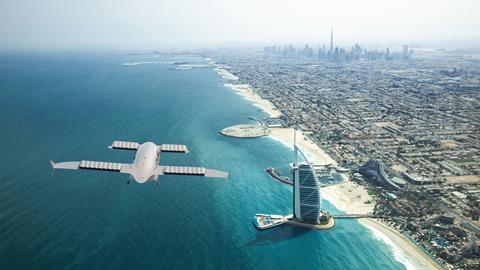 "We already have a lot of interest in it from our customers," he says. "They are really excited to learn about it; the cabin is fantastic, it really provides the feeling of a jet."
Dzun is confident that it can sell all 10 aircraft within 18 months: "It's very optimistic but we will do our best."
The deposit-backed agreement is a sign of the dealer's confidence in the product, he adds.
"We are very proud about this agreement for a number of reasons, not least that ArcosJet is a solid aviation company", with billions of dollars of deals behind it," says Paul Frank-Bijou, vice-president of business development at Lilium.
ArcosJet is the exclusive authorised dealer for private sales of the Lilium Jet in the UAE, Israel and Cyprus.
Lilium had originally planned to build 50 examples of the Pioneer edition jet, but having already taken orders for 46 aircraft it has now extended this to 80 units, says Bijou.
Featuring a four-seat club layout, the "high-end" Pioneer cabin is aimed at individual owners prepared to pay the $10 million price tag for the variant. Although this is around $3 million more than the baseline six-seat shuttle model of the eVTOL, the cost also includes a comprehensive service and support package.
Meanwhile, Lilium continues to be in regular contact with senior management at fractional operator NetJets, which in 2022 signed a tentative agreement for up to 150 Lilium Jets.
"They are waiting for the aircraft to fly," he adds — a milestone currently expected for the second half of 2024. "I met with them recently and they are very happy with the partnership we have."

Dominic Perry is deputy editor of Flight International but also contributes extensively to flightglobal.com. Although specialising in the coverage of the helicopter industry, he has written on most topics in aerospace – be they commercial, defence or business aviation. In addition, there has been an increasing focus on the decarbonisation of the industry and zero-emission flight initiatives.
View full Profile