Embraer has formally commenced arbitration proceedings following the decision by Boeing to terminate the companies' $4.2 billion merger.
But the Brazilian airframer has offered little insight into its response to the sudden collapse of the proposed commercial and military partnership, and the extent to which it had prepared for such an eventuality.
Embraer chief executive Francisco Gomes Neto, speaking during a 27 April briefing, said he was "surprised and disappointed" by Boeing's decision, reiterating the belief that the US firm had wrongly ended the agreement and disputing its claim of a failure by Embraer to meet conditions.
He says Embraer has worked "non-stop, day and night" to conclude the deal, which has involved a "long, costly and complex process".
Gomes Neto would not be drawn on the overall cost to Embraer of the separation and preparatory work for the merger, beyond saying it was "substantial", nor would he elaborate on the remedies sought from Boeing or even the conditions Boeing believes Embraer to have breached.
Merger documents filed to the US Securities and Exchange Commission refer to two termination fees, one amounting to $75 million and the other, designated an "anti-trust termination fee", of $100 million.
Gomes Neto also remained vague on alternative plans that Embraer might pursue in the aftermath of Boeing's withdrawal, stating only that the company would "review" its commercial aviation structure and strategy.
Embraer would remain open to possible partnerships, he says, but adds: "We want to do our homework first."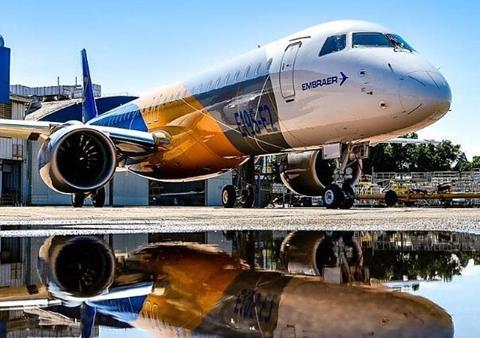 The company points out that regional aircraft are likely to play a strong role as the air transport industry recovers, and that it has not experienced any cancellations as a result of the current crisis.
But it is yet to analyse the fallout from the Boeing split and says it is "too soon" to indicate whether it will reverse the separation measures for its commercial aviation operations and re-integrate the businesses.
Embraer's share price fell by around 10% early on 27 April, the first day of trading since the deal's collapse.
Executive vice-president of finance Antonio Carlos Garcia says the company is scrutinising its operations and has identified around $1 billion in potential cash savings for 2020.
But he is confident about the company's liquidity position, describing it as "solid".
Embraer states that less than 15% of its outstanding debt is due within the next two years. The company ended last year with total cash of $2.8 billion and obtained a new loan of $600 million in mid-March. Carlos Garcia says the company ideally would keep cash above $2 billion to "absorb turbulence" but stresses that he currently "doesn't see any liquidity issue".
While Embraer acknowledges that this year will be "tough" and that 2021 will probably fall short of forecasts, Gomes Neto insists that, despite the economic conditions, the company "has a great future ahead".
Commercial aviation chief John Slattery is also upbeat over the manufacturer's prospects. "I'm confident Embraer will emerge stronger," he states.