Russian president Vladimir Putin has scolded industry minister Denis Manturov during an extraordinary exchange over the state of aircraft orders.
Putin hosted a meeting with several government officials, with Manturov among them, on 11 January.
Manturov updated the president on planned delivery of 63 aircraft to Aeroflot Group – including 18 Irkut MC-21s, 34 updated Superjets, and 11 Tupolev Tu-214s – over the course of 2023-25.
He also referred to separate plans for other airlines to ensure a "comprehensive programme" for development of the aviation industry.
But Putin told him that ambitions to deliver 700 aircraft and helicopters by 2030 required clear figures on the numbers of civil and military types, and other firm information – and that, in some cases, no orders had been finalised even for 2023.
Industrial organisations need a clear view of their prospects, Putin added.
"They have to hire labour, they have to maintain or expand production facilities," he told Manturov.
"They need to understand how much the military department will order, how many civil aircraft will be ordered."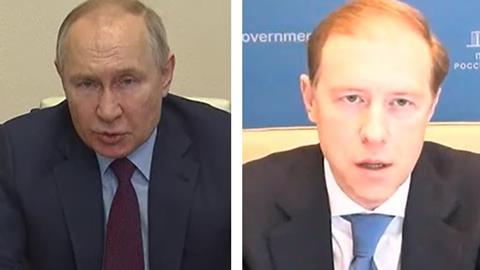 While Manturov attempted to assure Putin about the industrial preparations, Putin reiterated his concerns about an absence of firm contracts which, he said, meant the enterprises involved "do not have an understanding" of their tasks.
Putin ordered Manturov to "speed up" the work, and chided him for suggesting that the situation was in hand.
"I know there are no contracts at the enterprises, the directors told me," stated Putin, adding that the discussion appeared to be turning into an argument, before asking: "What are you playing the fool for?"
He then continued pressuring Manturov, demanding to know when the contracts will emerge, and added: "These are the questions that need to be answered."
Putin instructed him to complete the work within a month and refused to entertain Manturov's response that the ministry would "try to do our best".
"This should be done within a month," Putin told him. "No later."