Raytheon Technologies' ambitions to advance hybrid-electric flight have taken a significant step forward with the completion of a rated power test of a 1MW electric motor-generator developed by its Collins Aereospace subsidiary.
The motor will subsequently be combined with a Pratt & Whitney Canada thermal engine to form the core of a new hybrid-electric propulsion system which will next year be flight tested aboard a modified De Havilland Canada Dash 8-100.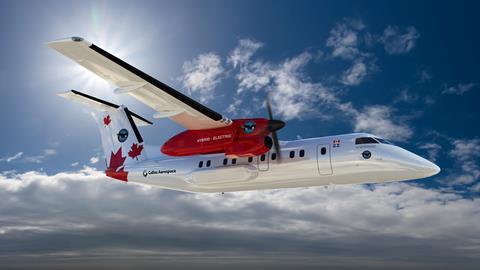 Collins says the new electric motor will deliver four times the power and twice the voltage, with half the heat loss and half the weight than its current highest-performing units.
Development of the motor is taking place at Collins' facilities in Solihull, UK, with tests taking place at the University of Nottingham's Institute for Aerospace Technology.
Eric Cunningham, vice-president electric power systems at Collins, says although the test motor is sized at 1MW, its design is scalable to cover a broad range of applications.
"It's much easier to scale down than it is to scale up: it's a lot easier to convince the world that you can make a 200kW motor after you have already demonstrated a 1MW motor."
Completion of the rated power test means the motor has delivered the stated 1MW output in laboratory conditions.
In December last year it was combined and run with the gas turbine engine in P&WC's facility in Longueuil, Quebec, but the latest test was "really an opportunity to put it back on the test stand and really push this thing to one megawatt.
"We actually pushed it a little bit over but we made sure we could hit those power levels, verify those."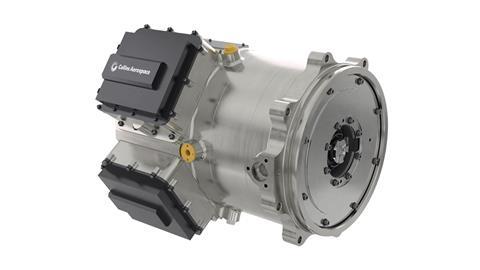 Todd Spierling, senior technical fellow – electrification at Collins, says the tests went to plan: "It met predictions and did what it needed to do." Although there were minor issues with the test equipment that meant it was "not a walk in the park", he says, "we were able to step our way up and meet the numbers."
Cunningham says the motor uses a radial-flux architecture, which was selected due to the "speed ranges we are dealing with, as well as the power levels".
The propulsion system and batteries will later be integrated on the Dash 8-100 aircraft, replacing one of its two PW120 turboprop engines, with flight testing targeted to begin in 2024. P&WC has yet to disclose details of the new thermal engine, however.
The project is supported by the governments of Canada and Quebec.

Dominic Perry is deputy editor of Flight International but also contributes extensively to flightglobal.com. Although specialising in the coverage of the helicopter industry, he has written on most topics in aerospace – be they commercial, defence or business aviation. In addition, there has been an increasing focus on the decarbonisation of the industry and zero-emission flight initiatives.
View full Profile