A video has emerged that appears to show the AVIC Commercial Aircraft Engine Corporation (ACAE) CJ-1000A high-bypass turbofan undergoing a test flight.
The footage was posted on Twitter following an earlier posting on Chinese social media. The engine is located on the No. 2 engine station of a Xian Y-20 test aircraft.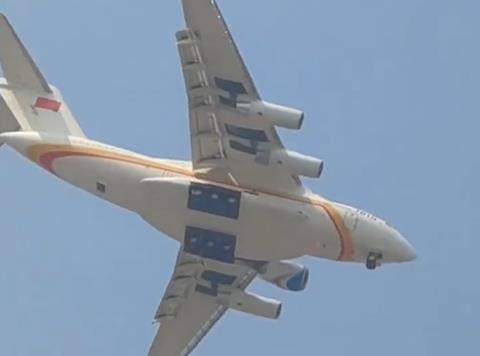 It shows the four-engined transport, landing gear down and flaps extended, on approach. The location of the footage is not provided, nor when it was shot.
ACAE's developmental CJ-1000A is a 25,000lb (111.2kN) thrust engine designed for the Comac C919 airliner as an indigenous alternative to the CFM International Leap-1C.
The footage could suggest progress with the engine, and tests on the C919 itself could follow.
If legitimate, the footage is among the first images of the Y-20 being used for commercial testing purposes. The type has emerged in recent years as the People's Liberation Army Air Force's primary strategic transport. A YY-20 tanker variant has also been developed.
Though AVIC has been quiet on progress with the C-1000A – as well as most other programmes – in recent years, China's five-year plan for 2021-2025 made development of the engine a priority.
国産エンジンであるCJ-1000Aの空中飛行試験を行うY-20空中飛行試験機型。
(video by/@ WHXL子涵) pic.twitter.com/g9Bf0RHhfG

— お砂糖wsnbn (@sugar_wsnbn) March 24, 2023
Beijing has made notable progress in recent years with engines, particularly for fighter aircraft, but it still lags the West in the area of commercial engines.
AVIC made much of the MA700 turboprop in the 2010s, but in 2018 failed to secure export permits for the Pratt & Whitney PW150C engine. FlightGlobal understands that work has all but ceased on the programme. Original plans had called for a first flight of the MA700 in 2020.
As for the C919, the first Leap-1C powered example was delivered to China Eastern Airlines in December 2022, but it has yet to entered scheduled service.
Along with China's other indigenous airliner, the ARJ21, the C919 is all but entirely reliant on western suppliers. The ARJ21, for its part, is powered by the GE Aerospace CF34 engine.