Airbus and Rolls-Royce are participating in a study to examine in-flight emissions from commercial aircraft powered entirely by sustainable aviation fuel.
The study involves monitoring emissions from an Airbus A350-900, both on the ground and in the air.
Sustainable fuel will be supplied by Neste and the study will include German aerospace research centre DLR.
Airbus has already carried out an initial flight check in Toulouse to ensure the fuel is compatible with the A350's systems and its Rolls-Royce Trent XWB engines.
It will commence flight-emissions tests in April. Airbus says a DLR Dassault Falcon 20-E chase aircraft will conduct emissions measurements.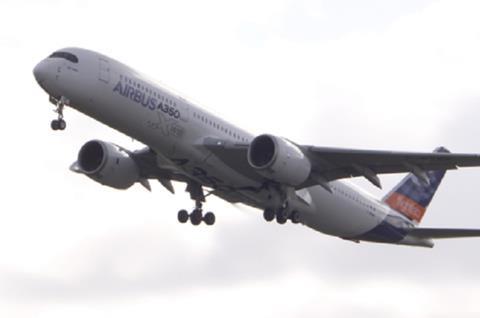 Airbus new energy programme manager Steven Le Moing says the collaboration will provide insight into how turbine engines function using 100% sustainable fuel, with a view to certification.
"[It will also] identify the potential emissions reductions and environmental benefits of using such fuels in flight on a commercial aircraft," he adds.
The work will be carried out using the initial A350 flight-test aircraft MSN1.
"Sustainable aviation fuel is essential to the decarbonisation of [long-haul] travel and we actively support the ramp-up of its availability to the aviation industry," says Rolls-Royce civil aerospace director of product development and technology Simon Burr.
The fuel will be sourced from hydroprocessed esters and fatty acids. Emissions will be compared with those from fossil kerosene and low-sulphur fossil kerosene.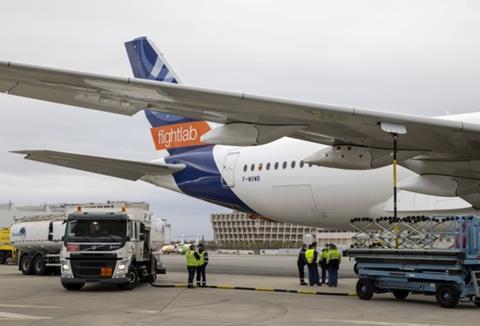 "Further ground tests measuring particulate-matter emissions are set to indicate the environmental impact of sustainable aviation fuel use on airport operations," adds Airbus.
It says the findings will support preparation for large-scale use of such fuels at blend ratios higher than the permitted 50%.
Neste vice-president for Europe, renewable aviation, Jonathan Wood says there is evidence that using 100% sustainable fuel could provide a reduction of up to 80% in greenhouse gas emissions, when all life-cycle emissions are taken into account. "This study will clarify the additional benefits," he says.