Airbus and Boeing executives believe the analytical and data-driven approach the industry has taken to demonstrate aircraft are safe to fly since the pandemic hit will remain key in supporting the further reopening of air travel.
Airbus executive Bruno Fargeon, who leads the Keep Faith in Air Travel initiative established by the manufacturer in April 2020, and Dan Freeman, who is engineering leader for Boeing's Confident Travel Initiative, both highlighted the analytical approach taken in restoring passenger confidence in air travel during a wide-ranging panel session at the virtual Farnborough Connect event on 14 June.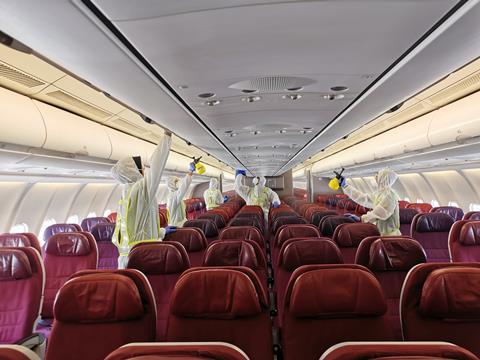 Fargeon says: "I think 16 months ago we did not know exactly what were the consequences of flying with the virus. After so many months we do know. We have demonstrated the aircraft environment is a safe place. It is probably one of the safest places on earth.
"So right now it is a question of passing [on] again the message and, showing, demonstrating and being extremely scrupulous and meticulous in the way we do things. It's a safety-like topic, so we need to apply the same thoroughness in gathering data, providing root-cause analysis, correcting [things]. The kind of thing we have done for decades in aviation, we need to do it too on this topic."
Boeing's Freeman adds: "I think there is a continuum of understanding with some people who are very comfortable travelling and really understand the situation and there are still quite a few people that still need to understand. So there is a continuing campaign to educate people about the safety of air travel.
"The airframe manufacturers have been doing some unprecedented collaboration with regard to making sure the travel experience is safe. We have really taken a very data-driven approach to analyse the airplane, understand how to support the operators. And the same needs to occur when we are removing barriers to the travel journey.
"Passenger confidence really comes from two things. One is that passengers need both feel and be safe as part of the travel journey, and the second is the travel journey needs to be predictable. We need to remove the barriers to travel."
While lessons from how the industry has had to adapt to counter the Covid threat will be useful in future for airframe manufacturers, Freeman notes that because viruses are transmitted in different ways means they have their own challenges.
"Any future virus might have a different path," he says. "So we are looking at the paths to understand how do we mitigate the risks.
"We are looking at technology, such as ultra-violet light, to take out viruses both on surfaces and in the air. We continue to look at refining our airflow, which is already excellent but there is always room to improve and I think its really based on assessing the threat and addressing the threat specifically."
Fargeon adds: "Technology is important and we are working on the same topics, and we share very often what we do on this kind of thing.
"There is also another aspect, in that we can also operate the aircraft slightly differently and we are looking at how we can help the crews," he says.
"For example what we are marketing a light system to illuminate the rows of the aircraft to help the crews disembark in a controlled manner. We will see if this is a success but at least its something that is how to help the crew manage the passengers, so that we can also secure the way we are operating the aircraft. So yes, changing the aircraft but also maybe using the aircraft a little bit differently."