Singapore-based lessor BOC Aviation registered a slight increase in its profits in the first half of this year, though its cash collection rate plummeted to the lowest level in more than a decade.
The company posted a profit before income tax of $354 million for the six months ended 30 June, up by 0.6% from the first half of 2019. Net profit after tax gained as much to $323 million.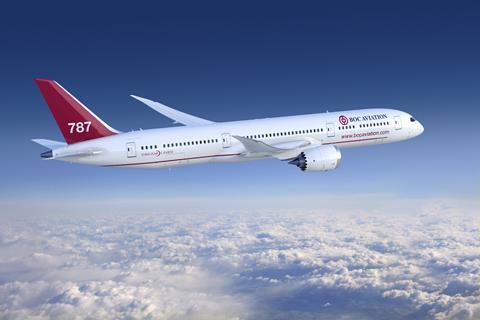 This was on total revenues and other income of over $1 billion in the first half of this year, an 11% increase on revenues in 2019's first half, while costs and expenses rose 17.6% to $681 million over the same period.
"The pandemic associated with the Covid-19 virus has presented the world, the aviation sector, our business partners and stakeholders and our company with unprecedented challenges. During this period, our primary concern has been the health and safety of our 179 employees in the five countries where we are based. Our employees are our most important asset and we continue to work with our colleagues to ensure they are protected while we support the real economy through our ongoing business activities," the lessor says.
Lessors across the globe have been negotiating rental deferral agreements with their airline customers whose businesses have been ravaged by the Covid-19 pandemic. Earlier this month, the chief executive of Dubai-based DAE Capital Firoz Tarapore said his company's cash collection rate improved to the "mid-70s" in June and July from a low of being in the "high 50s" in April.
BOC Aviation's cash collection was 88.8% for the first half of 2020, continuing a downward trend this year. First-quarter cash collection was 94%, the lowest it had been since at least 2008. The lessor tells Cirium it does not usually publish quarterly breakdowns of its cash collection, but chose to do so in the first quarter to give comfort to investors.
The lessor says in the filing: "Our portfolio has performed well in the face of the challenges that the aviation industry is struggling to meet. As at 30 June 2020, utilisation of the owned fleet was 99.8%, with only two single-aisle aircraft off lease for part of the period. However, the collection rate of 88.8% was lower than our historical rate because of the cash flow pressures that our customers continue to face due to the impact of Covid-19."
Despite the lower collection rate, lease rental income increased 6.7% to $888 million.
"The main driver of the increase in lease rental income was the growth in our fleet to 328 aircraft on operating leases compared with 314 aircraft as at 30 June 2019. During 1H 2020, we added 16 aircraft on operating leases and sold five aircraft. The lease rental yield for aircraft subject to operating leases was 10.4% for 1H 2020 compared with 10.8% for 1H 2019," BOC Aviation said.
Income from mainland China, Hong Kong, Macau and Taiwan collectively accounted for 29.4% of lease rental income, down from 30.2%, it adds. There was "no other country concentration" in excess of 10% of the total lease rental income for the period ended 30 June, likewise the year-ago period.
The lessor also said it maintained "strong liquidity" of $4 billion, comprising $398 million in cash and cash equivalents, and $3.6 billion in undrawn committed revolving credit facilities as at 30 June.
From 31 December, its total assets increased 14% to $22.6 billion as at 30 June. It ended the first half of 2020 with an owned fleet of 334 aircraft with an average age of 3.5 years and an average remaining lease term of 8.5 years, each weighted by net book value. The managed fleet comprised 40 aircraft, with one managed single aisle aircraft off lease at 30 June.
BOC Aviation delivered 23 aircraft during the period, including one acquired by an airline customer on delivery. It also signed 76 lease commitments, with all aircraft scheduled for delivery from its orderbook before 2023 now placed with airline customers.
It also sold five aircraft, all from its owned fleet.