Boeing has scheduled the 777X's maiden sortie for 23 January, an event that will finally kick off the revamped widebody's delayed flight-test programme and potentially keep the airframer on track to begin deliveries in early 2021.
Under the manufacturer's current schedule, the 777-9 test aircraft should depart at around 10:00 Seattle time on the 23rd, although Boeing cautions that the timing "could change due to weather and other factors".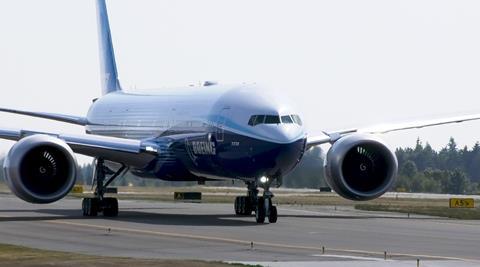 Getting the flight-test programme underway will mark a major milestone for Boeing, which has been hammered by a series of major issues, the most-prominent being the 737 Max's grounding.
But the 777X programme has been beset by delays, and analysts have raised concerns about how quickly the Federal Aviation Administration, under extreme pressure to prevent a repeat of the 737 Max's certification issues, will approve the new big twin.
Boeing launched development of the 777X, which has new GE Aviation GE9X powerplants, composite wings and folding wing-tips, at the Dubai air show in 2013. The two-aircraft family comprises the 426-seat 777-9 and the longer-range, 384-seat 777-8.
Boeing initially planned to complete first flight of the 777-9 in 2019 and to begin deliveries in 2020.
But an issue with the 105,000lb-thrust (467kN) GE9X powerplants stymied Boeing's plan. GE disclosed the issue, which involved stator vanes at the front of the engine's high-pressure compressor, at the Paris air show last year.
A "durability issue" with those vanes, which pivot on a bearing to keep the engine running at peak performance, was causing hotter-than-expected exhaust gas temperatures, resulting in unexpected component degradation, according to GE.
The engine maker recalled four GE9X powerplants from Boeing in 2019, forcing the airframer to delay first flight. GE says it has now fixed the issue.
Also in 2019, Boeing announced it had shelved 777-8 development until a later, undisclosed date.
The company has struggled to land significant numbers of 777X sales, with firm orders standing at 309 aircraft, according to Boeing data.
Industry analysts attribute the modest sales partly to the current phase of airlines' fleet replacement cycles, noting that many airlines have recently completed widebody purchases.
However, the consensus view is that 777X orders will increase by the middle of the decade