The Civil Aviation Authority of Singapore (CAAS) has certificated Embraer's E2 family of regional jets, ahead of the type's entry into service with Singapore-based Scoot.
The low-cost operator will be taking delivery of its first E190-E2 in March next year, over a year after it announced it would be taking nine examples on lease from lessor Azorra.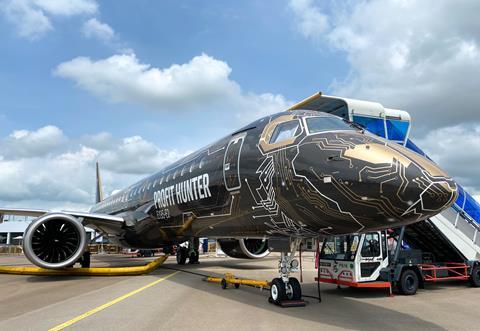 Scoot chief Leslie Thng says: "[The certification] reinforces our commitment to operating a modern and fuel-efficient fleet and brings us a step nearer to offering more travel opportunities to our customers. As the first Singaporean carrier to operate the E2s, we look forward to enhancing connectivity in Asia and the further development of Singapore as a hub for regional travel."
The CAAS is the latest regulator to certificate the E2 family. In July, Malaysian regulators issued the type certification for the E2s. A month later, the Civil Aviation Administration of China (CAAC) certificated the E195-E2, months after it certificated the small E190-E2 at the 2022 Airshow China in Zhuhai.
Scoot, as well as Malaysia-based operator SKS Airways, will be the region's first E2 operators. SKS has commitments for 10 E195-E2s, which will also be delivered in 2024.
In the lead-up to entry into service, Embraer and training specialist CAE have jointly established an E2 full-flight simulator and pilot training programme, which will commence operations in Singapore by the end of the year.