The two main airframers will miss their narrowbody aircraft delivery targets for 2023 as supply chain hold-ups continue to plague the industry, warns Steven Udvar-Hazy, executive chairman of leasing giant Air Lease.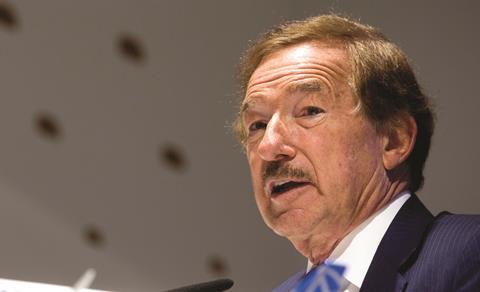 Since the Covid-19 recovery in passenger traffic began in 2021, the "OEMs have grossly misjudged how many aircraft they could build, and the trend is not improving", Udvar-Hazy told the Airline Economics Growth Frontiers Dublin conference today.
Airbus and Boeing delivered 15% fewer aircraft than they promised in the final quarter of 2021, and "we expect continued delays this year", says the veteran business leader.
Udvar-Hazy maintains that "a lot of aircraft" scheduled for delivery to Air Lease in the second half of 2022 "still have not been delivered". He adds: "I can speak from our own experience that both OEMs are struggling to meet their contractual commitments."
He says Airbus and Boeing have not achieved production targets because their suppliers have struggled to ship the components and raw materials needed. "It is not that [the OEMs] don't want to meet [their targets]," he says. "There are not enough engines, titanium, forgings, landing gear. They are the victims of a very complex supply chain, down to mom and pop shops."
Speaking at the same event, Aengus Kelly, chief executive of the industry's largest lessor, AerCap, said Airbus in particular had been guilty of overpromising in terms of deliveries, and then leaving it too late to inform customers.
"The challenge for the OEMs today is the short nature of telling airlines the bad news," he says. "Airlines make almost all their money in three months. Imagine if you have everything in place, and then you're told… your aircraft isn't coming in time for summer."
The European airframer missed its 2022 delivery goal by almost 40 aircraft, handing over 661 units. It had originally pledged to deliver 720 aircraft at the beginning of the year, but faced with supply chain delays revised this to 700 in July.
Boeing, meanwhile, did achieve the 2022 deliveries numbers it promised, but at the third attempt, having lowered its target twice during the year.