The US Department of Transportation (DOT) will impose a 40% capacity limit on Chinese airlines flying into the US, following a similar move by Beijing on four United Airlines flights to the Chinese mainland.
The DOT order dated 18 August states that the limits will apply to four Chinese carriers currently operating US-China flights — Air China, China Eastern Airlines, China Southern Airlines, as well as Xiamen Airlines.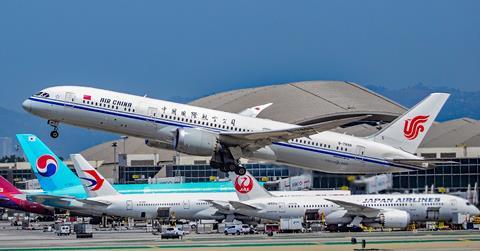 The 40% capacity limit will run over a four-week period starting 23 August, and beginning with Air China's Beijing-Los Angeles flights in the first week, followed by China Eastern (Shanghai Pudong-New York), China Southern (Guangzhou-New York), then Xiamen Airlines's Xiamen-Los Angeles flights in the final week ending 19 September.
The move by the DOT comes as Chinese students head to the US for class in the autumn.
The Civil Aviation Administration of China (CAAC) on 6 August imposed sanctions on United Airlines after five passengers on a 21 July flight from San Francisco and Shanghai Pudong were tested positive for the coronavirus.
As part of measures to curb the number of imported infections into the country, Chinese authorities have implemented "circuit breaker" measures for airlines found to carry coronavirus-positive passengers.
While previously airlines had to suspend operations for two weeks, Beijing in April adjusted these restrictions, offering airlines a second option of operating at 40% load factors for four weeks.
Following the discovery of positive coronavirus cases on the United Airlines flight, the CAAC offered the carrier three penalty options: suspension of flights between the two cities; operate two flights without passengers; or operate four inbound flights with a 40% capacity limit. United chose the capacity limit option.
Washington has "repeatedly raised its objections" with China about the nature of the restrictions, which the DOT has called "unilaterally-imposed".
"In particular, the [US government] has conveyed its view that the 'circuit breaker' measure places undue culpability on carriers with respect to travellers that test positive for Covid-19 after their arrival in China. As carriers are following all relevant Chinese regulations with respect to pre-departure and in-flight protocols, they should not be penalised as a result of travelers later testing positive," the DOT states.
The US and China have crossed swords over commercial flight operations during the pandemic. In June 2020, Washington threatened to bar Chinese carriers from flying to the US, in retaliation for a Chinese order that US officials said effectively prohibits US airlines from resuming China flights.
It walked back on the ban, allowing Chinese airlines to fly up to four times weekly between both countries. China also eased restrictions on US carriers flying into the mainland.