Boeing intends this year to operate a 787-10 under its "ecoDemonstrator" programme, using that jet and a 777-200ER to evaluate technologies intended to improve aircraft efficiency.
The company on 27 April disclosed details about its planned 2023 ecoDemonstrator flights, saying the 787 will be the first of what it calls "ecoDemonstrator Explorer" jets.
Boeing will use Explorer jets to "focus tests on specific technologies" – while plain ecoDemonstrators serve as test beds for multiple technologies, Boeing says.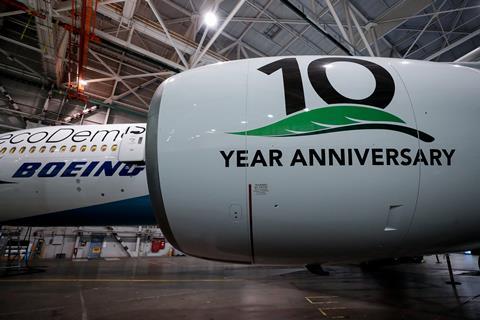 The first Explorer – the 787-10 – "will conduct flight tests in June from Seattle to Tokyo, Singapore and Bangkok", it adds.
Under Boeing's plan, air traffic controllers in USA, Japan, Singapore and Thailand "will collectively sequence the airplane's routes to achieve the optimal flight path across multiple regions, factoring in conditions such as weather, air traffic and airspace closures".
Boeing says such coordination "can improve operational efficiency" and reduce fuel burn by 10%.
It does not disclose details about the 787-10, such as whether an airline, or Boeing itself, will operate the aircraft. Boeing calls that jet its "first" ecoDemonstrator Explorer but does not elaborate. The company did not immediately respond to a request for more information.
Boeing also intends to continue flying a 777-200ER as part of its 2023 ecoDemonstrator programme.
It will use that jet to test 19 technologies, including a "fibre-optic fuel-quantity sensor compatible" with sustainable aviation fuel (SAF) and a "smart airport maps" application – supplied by Boeing-owned Jeppesen and displayed on electronic flight bags – intended to make taxing safer and more efficient.
Additionally, Boeing will use the 777-200ER to test cargo-hold wall panels made from "40% recycled carbon fibre and 60% resin made from a bio-based feedstock", it says. Boeing plans to fuel the 777 partly with SAF for ecoDemonstrator flights.
Boeing in 2022 rolled out a 777-200ER ecoDemonstrator, an aircraft previously operated by Singapore Airlines, Air New Zealand and Suriname Airways, according to Cirium data.
Boeing launched its ecoDemonstrator programme in 2012. Under the effort it has used several aircraft – a 737 Max 9, 757, 787-8, 777 Freighter and even an Embraer 170 – to evaluate various technologies.