Boeing has further delayed the 777-9 programme, saying it intends to deliver the first of the aircraft type in late 2023.
The decision, which Boeing disclosed on 27 January, marks another in a string of 777X programme delays. The company had most recently said it would deliver the 777-9, the first 777X variant, in 2022.
At one point it intended to deliver the jet in 2020.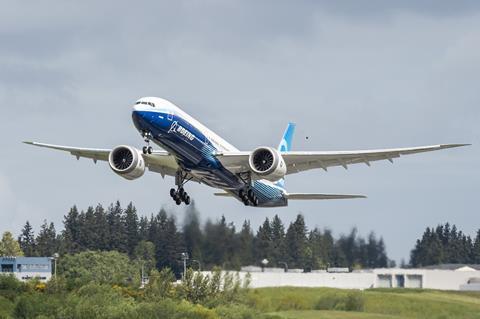 "Boeing now anticipates that the first 777X delivery will occur in late 2023," the airframer says, adding that it has also recorded a pre-tax charge on the 777X programme of $6.5 billion.
"The schedule, and the associate financial impact, reflect a number of factors, including an updated assessment of global certification requirements, the company's latest assessment of the Covid-19 pandemic on market demand and discussions with customers with respect to aircraft delivery timing," Boeing says.
Boeing adds that it continues having "ongoing communication with civil aviation authorities".
The schedule change and charge also reflect adjustments to production rates and the programme accounting quantity, increased change incorporation costs and associated customer and supply change impacts.
The 777-9 is in flight testing, which began in January 2020.
Boeing had previously hinted that it might further delay the 777X programme amid suggestions that the aircraft might face heightened scrutiny from regulators following the 737 Max's issues.
Analysts have also noted that demand for the 777X was lukewarm even before the Covid-19 pandemic, which has essentially erased demand for the largest long-haul passenger widebodies.