Boeing's latest 777X delay results partly from modifications Boeing is making to the jet's design, including to actuator controls, so as to meet regulators' "expectations".
The company is "making prudent design modifications as necessary", Boeing chief executive David Calhoun says of the 777X development programme.
Boeing is working on "firmware and hardware changes" involving actuator controls, Calhoun adds, saying the move "reflects expectations of global regulators".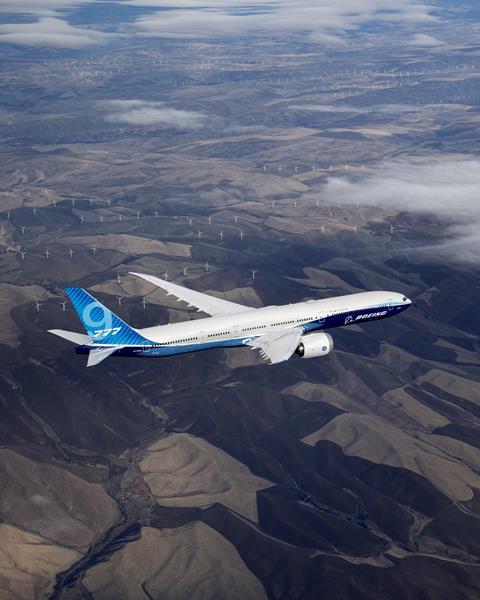 He spoke during the company's 2020 earnings call on 27 January. The 777X made its first flight in January 2020 and remains in flight testing.
Boeing on 27 January disclosed another delay to the timeline of the 777-9 – the first 777X variant.
The airframer now expects to deliver the first 777-9 in "late 2023", not 2022 as previously predicted. Boeing took a $6.5 billion charge against the 777X programme during the fourth quarter.
"Our decision to implement modifications to the aircraft design has added time to the programme" and hiked the programme's cost, Boeing chief financial officer Greg Smith adds on 27 January.
Boeing has not disclosed more details about the 777X design rework, and the Federal Aviation Administration declines to comment.
But last year Calhoun said Boeing's 777X development and certification would reflect "learnings" from the 737 Max's certification.
Regulators – namely the FAA – were criticised for approving the Max's Maneuvering Characteristics Augmentation System (MCAS), which played a major role in two crashes that killed 346 people.
In response, the US government in late 2020 passed a law aimed at tightening regulatory oversight. That law requires aerospace manufacturers to disclose to regulators certain changes to aircraft designs, among other requirements.
Boeing says its decision to delay the first 777X delivery also follows a review of market conditions. The Covid-19 pandemic has essentially gutted demand for large new widebody jets.
Still, Calhoun expresses optimism in the 777X's future, noting Boeing's expectation of strong long-term air travel demand.
"We are confident in the 777X airplane and the unmatched capability it will offer our customers," he says.