Boeing would like to hike 737 Max production to 38 jets monthly but cannot due to lack of enough turbofans from CFM International.
"If I thought I had the engine supply, I'd do it today," Boeing chief executive David Calhoun said on 27 July.
He was speaking about the prospect of increasing 737 output to 38 aircraft monthly.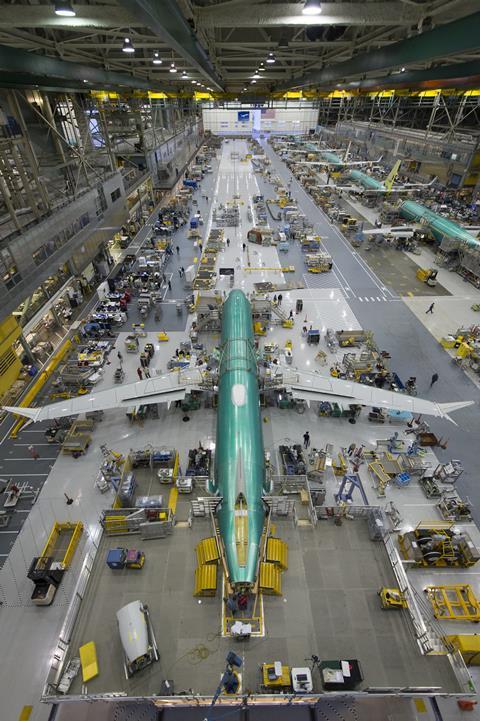 Calhoun does not name an engine manufacturer, but CFM International supplies the 737 Max's Leap-1B turbofans. GE Aviation and Safran co-own CFM.
"It does get down to that engine supplier, and it does get down to those castings," Calhoun says, referring to the metal castings used to produce turbofans. "Our choice not to move up to 38… as soon as we originally predicted, is honestly based on that constraint."
After industrywide grumbling about lack of sufficient parts and labour troubles, Boeing in recent weeks said it reached its goal of producing 31 737s monthly.
Calhoun says the airframer is now working to achieve "stability" at rate 31.
He wants to increase production further, but will not until "engine suppliers… have their castings in order and can predict steady delivery at 38", Calhoun says.
"We are going to watch as they qualify more capacity… before we pull those rates forward," he adds.
Calhoun declines to specify a timeline, but Reuters reported earlier this year that Boeing hopes to boost production to 38 jets monthly in the first half of 2023.
Boeing and, indeed, most aerospace companies have been struggling for several years with supply shortages, though the problem grew acute in recent months as companies sought to increase production.
CFM did not immediately respond to a request for comment. But on 26 July, Lawrence Culp, CEO of CFM co-owner GE Aviation, addressed engine supply.
Culp said his company was "grappling" with parts unavailability, and that GE and partners have been unable to deliver as many engines as customers would like.
He stressed that GE is working with manufacturers of cast and forged engine components to increase supply, saying, "We are seeing signs of improvement".
Calhoun predicts the engine supply bottleneck will not fully ease in the near term.
"Somehow, some way, that constraint, in my view, in the next three to five years, will resolve," Calhoun says.