The coronavirus pandemic has eroded demand for business jets, accelerated Bombardier's cash burn and will lead the company to slow aircraft production.
But Bombardier's chief executive floats the idea that the coronavirus could ultimately boost business jet sales, as contagion-wary customers seek alternatives to commercial airlines.
"Will this pandemic create more interest in people… flying business jets?" says CEO Eric Martel on 7 May. "Will people decide to adopt this way of travel?"
Martel believes the answer could be yes. But in the near term, Bombardier, like other aerospace manufacturers, is reeling from the pandemic's fallout.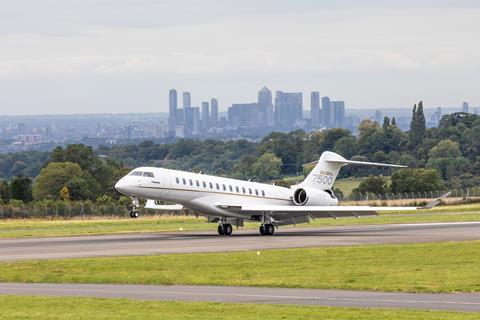 Bombardier Aviation's first-quarter profit, excluding finance expenses, declined 99% year-on-year to $7 million, it reports. When accounting for taxes and finance costs, the broader company (including all business units) lost $200 million in the period.
"Since the onset of the pandemic and travel restriction, sales activity has slowed down significantly," Martel says during the company's first-quarter earnings call. "We have seen limited cancellations in our backlog."
Bombardier reports a $400-500 million cash flow shortfall in the quarter due to coronavirus-related factors such as sagging demand, travel restrictions, facility closures and inability to deliver aircraft.
Chief financial officer John di Bert says "more than a handful of aircraft could not be delivered" in the period.
Bombardier says it will "align" aircraft production rates with the expectation that demand for new business aircraft will decline 30-35%.
The company has not issued 2020 delivery guidance, but it delivered 142 business aircraft and 33 commercial aircraft in 2019.
Martel says Bombardier saw "lower-than-expected" aircraft orders in the first quarter.
The large-jet segment, in which Bombardier's flagship line of Global business jets reside, "is better protected" from the downturn than the small- and mid-size jet sectors, which are "a bit more volatile right now", Martel adds.
In addition to Globals, Bombardier Aviation manufacturers midsize Challengers and Learjet 75s, a light jet. It also makes CRJ regional jets, though it intends to sell that programme's aftermarket support business to Mitsubishi Heavy Industries on 1 June. The company had expected to end production of the CRJ in the second half of 2020.
Bombardier closed facilities on 24 March to meet strict local government guidelines, but is now "gradually resuming manufacturing activities," and reopening all shuttered facilities, Martel says.
He describes this task as "a tremendous undertaking" involving implementation of "new stringent health and safety procedures", recalling thousands of furloughed employees, restoring "disruptive" supply chains and "resetting" delivery schedules with customers. "We expect this process will take the remainder of the second quarter [to complete], and it is likely to generate some challenges along the way," says Martel.
He expects the second quarter to be a "low point" in 2020 – with shipments set to fall by half year-on-year – as manufacturing and travel curbs continue to pummel deliveries and sales. Bombardier expects to see a "gradual recovery" in the second-half of the year.
Despite market conditions, the company will "ramp up" 7500 production after mid-year, but will deliver "a few less" of those jets this year than previously anticipated. Most recently Bombardier had said it would deliver 35-40 7500s in 2020.
The airframer generated $1.5 billion in first-quarter revenue, up 8% year-on-year. Martel says business jet deliveries were progressing well until the onset of coronavirus.
Bombardier delivered 26 business aircraft in the period (including six Globals), two more business jets than in the same quarter of 2019. Bombardier handed over five CRJ regional jets in the first quarter, up from four one year earlier.
Bombardier's first-quarter cash flow was negative $1.6 billion, and the company ended March with cash, cash equivalents and available credit of $2.9 billion.
It expects to bolster reserves by $550 million with the CRJ sale and by $500 million with the sale of its aerostructures business to Spirit AeroSystems. That deal will close in the "coming months", Bombardier says.
"Collectively, when completed these transactions will improve our cash position by over $1 billion dollars, and will also mark the completion of Bombardier's exit from the commercial aerospace market," says Martel.
Bombardier is also "making progress" with French industrial giant Alstom to complete the sale of its rail division, and Martel says the company "does not expect any delay to the original timeline".
Once the sale is complete, Bombardier will become a stand-alone business aircraft manufacturer. "While this is an extremely challenging environment, I am optimistic about our future," Martel says.
The value of Bombardier's business jet backlog stood at $13.6 billion on 31 March, down from $14.4 billion at the end of the fourth quarter.