Boom Supersonic has received an airworthiness certificate for its XB-1 demonstrator from the US Federal Aviation Administration (FAA), clearing a major hurdle to the start of flight testing.
The company on 24 August said it had received on 11 August "an experimental airworthiness certificate from the Federal Aviation Administration following a detailed aircraft inspection".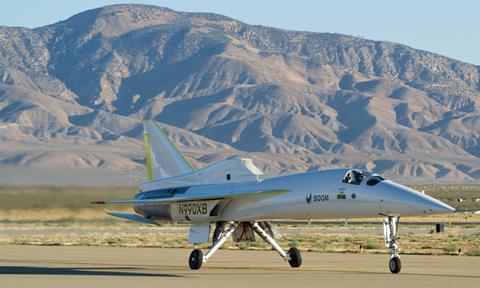 Boom does not estimate when it expects to complete the jet's first flight, which has already been delayed. When Boom rolled out the XB-1 demonstrator in October 2020, it said the aircraft would be airborne te following year.
"The team is making significant progress toward the first flight, and the aircraft will tell us when it's ready to fly," Boom says.
The company has developed the triple GE Aerospace J85-powered XB-1 to help evaluate design features and other technologies to inform its development of a conceptual supersonic airliner called Overture.
Boom says it has made design changes to XB-1 since revealing it three years ago.
"Rigorous testing of all of XB-1's internal subsystems has been completed. Upgraded landing gear and supersonic engine intakes were also installed on XB-1, both of which increase performance and safety," it says. The "world's first independently developed supersonic jet progresses towards first flight".
Earlier this year, Boom says, it moved XB-1 from a hangar at Centennial airport near Denver to the Mojave Air & Space Port in California from where it plans to conduct test flights.
"The aircraft has undergone extensive ground testing since arriving, including taxi testing this week," Boom says.
Boom says it has also "secured letters of authorisation" allowing its chief test pilot Bill Shoemaker and test pilot Tristan Brandenburg to fly the jet.
The crew has "completed hundreds of hours in the simulator for aircraft evaluation, operations development training and human-factors assessments", Boom says.
The company adds that it has received authorisations to operate XB-1 over the Mojave Desert.
The aircraft has a modified delta wing and a fuselage made from carbonfibre and titanium. Its three J85s produce a combined 12,300lb (54.7kN) of thrust.
"Across its development, XB-1 has validated Boom's approach to airplane design and enabled engineers to leverage advanced tools like computational fluid dynamics, which are critical components of Overture's development," Boom says.
Overture is to be a 64-80 passenger airliner capable of travelling at Mach 1.7 on routes of up to 4,250nm (7,871km).
Numerous companies have signalled an intent to acquire Overture, including American Airlines, Japan Airlines and United Airlines.
Still, some details about the project remain unclear – notably those related to Overture's powerplant.
Previously, Rolls-Royce had helped Boom with engine design studies, but the UK company said in 2022 it was ceasing that work. Other major engine manufacturers have also not expressed interest in the project.
In December 2022, Boom revealed it had partnered with several firms to develop Symphony, a 35,000lb-thrust, air-cooled single-stage turbine with a 1.83m (72in)-wide fan.
Those partners include Florida Turbine Technologies, a division of Kratos Defense & Security Solutions that will assist with engine design, StandardAero, which is helping with maintenance support, and GE Aerospace, which is providing additive-manufacturing consultancy services.
Boom has said construction has started of a new facility in Greensboro, North Carolina where it intends to manufacture Overture.