Boom Supersonic has mated the wings and fuselage of XB-1, a supersonic demonstrator aircraft the company has said it will unveil this summer.
Boom disclosed the news in a tweet and accompanying video that shows staff lowering a one-piece, 725lb (329kg) wing on the fuselage.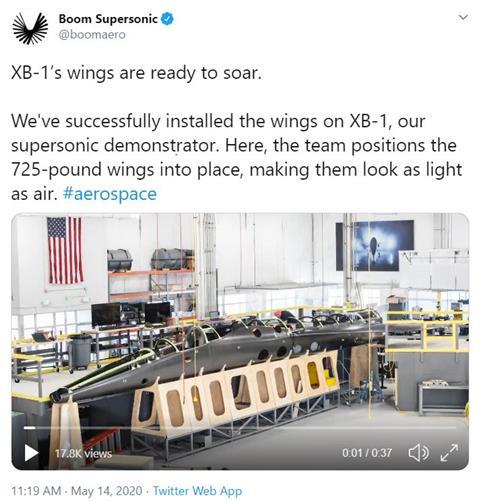 The company, which is assembling XB-1 in Denver, says the wing-to-fuselage mate occurred in April.
On 22 March, Boom completed static-wing loading tests.
XB-1, powered by three GE Aviation J85-15 turbojets, is a one-third-scale demonstrator of the company's conceptual supersonic commercial airliner Overture.
Overture will have 55 to 75 seats and be capable of flying Mach 2.2 at altitudes of 60,000ft, according to Boom. The company says Overture flight testing will begin in the mid-2020s.
Story corrected on 14 May to note XB-1 will be powered by three GE engines, not one.