Brazilian airframer Embraer delivered 43 jets during the third quarter, 30% more than it did in the same period last year.
The company, headquartered in San Jose dos Campos, said on 26 October that it delivered 15 commercial jets, a 50% increase from the same quarter of 2022. It also handed over 28 executive jets – 19 light jets and 9 mid-size jets – which was 22% more than last year, in the three months that ended on 30 September.
So far this year, the company has delivered 105 aircraft (39 commercial jets and 66 executive jets) in total, 33% more than it had in the first nine months of 2022.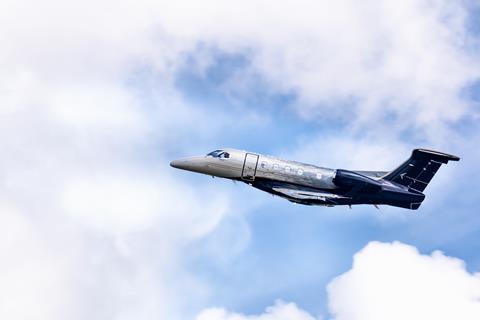 The commercial jets comprised of six E175s and nine E195-E2s.
The Brazilian airframer ended the quarter with a firm order backlog of $17.8 billion, $500 million more than at the end of the second quarter, and the highest it's been in one year, the company says.
The commercial aviation division's firm order backlog rose to $8.6 billion from $8 billion and now stands at 291 jets: 101 E175s, 16 E190-E2s, and 174 E195-E2s.
Earlier in the day, SkyWest Airlines said it had ordered 19 new E175 jets for operation in the United Airlines network, with deliveries beginning in the fourth quarter of 2024.
Also during the third quarter, Luxair ordered four E195-E2s, including two purchase options and three purchase rights for additional jets. Nigeria's Air Peace placed an order for five E175 jets and Spain's Binter placed an order for six E195-E2s.
All of these orders were placed in the third-quarter backlog, Embraer says.
In addition, American Airlines signed for four new E175s for its wholly-owned subsidiary Envoy Air, which will be included in the fourth-quarter backlog.
On the executive jet side, Embraer delivered two Phenom 100s, 17 Phenom 300s, four Praetor 500s and five Praetor 600s.
Earlier this month at the National Business Aviation Association's annual exhibition in Las Vegas, the company rolled out another updated version of its Phenom 100 light jet, giving the smallest executive aircraft in its portfolio an overhauled cabin and new avionics features, including a runway overrun awareness system.