The Federal Aviation Administration has certificated Britten-Norman's BN2T-4S Islander turboprop, a move that comes decades after European authorities greenlighted the type.
The UK aircraft manufacturer disclosed the FAA's certification on 23 January, though an FAA type certification sheet says the agency cleared the aircraft on 15 December last year.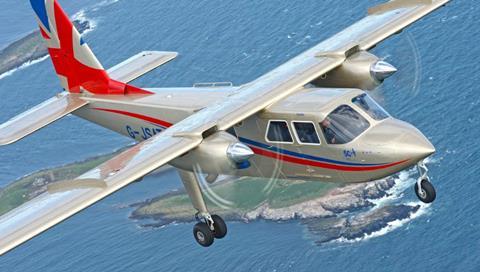 "This change is an important milestone for Britten-Norman and compliments existing type certificates for the aircraft with the UK [Civil Aviation Authority] and EASA," Britten-Norman says. "The new certification opens up new markets for the company in the USA and internationally."
UK regulators issued the BN2T-4S's type certificate in 1995, the year Britten-Norman delivered the first of the type, according to Cirium data and regulatory documents.
Britten-Norman does not immediately respond to questions about why it had only recently sought the FAA's approval.
BN2T-4S Islanders are powered by twin Rolls-Royce M250 turboprops. The aircraft has a 176kt (326km/h) maximum cruise speed and a range of up to 1,006nm (1,863km).
The company sells Islanders in nine-passenger commuter variants and 4-8 passenger executive configurations, and as freighters.
Britten-Norman says it is also seeking type certificates for the BN2T-4S from regulators in Canada and India.
The airframer notes that Islanders have historically been most popular among European and Asian operators, and that it initially marketed the BN2T-4S to governments as defence aircraft.
"However, the dynamic is changing, where more interest is coming from the United States, and the BN2T-4S is being sought after as a product for civil operations," it says. "FAA certification was the right step forward to enable our operators to realise the potential of this aircraft."
It adds that the price and availability of aviation gasoline (for piston-engined aircraft), and "passenger travel trends such as increased baggage sizes and weight", have made the turboprop-powered BN2T-4S more attractive.
Britten-Norman maintains an office in Miami, and customers in the Caribbean and South America operate Islanders as commuter airliners, it adds.
Story updated on 7 February to include more details from Britten-Norman, in the preceding four paragraphs.