The new chief executives of GE Aviation and Embraer's commercial aircraft division are well suited to help address the particular challenges facing those companies' corners of the aerospace industry.
Specifically, incoming GE Aviation CEO John Slattery, formerly Embraer's commercial aircraft chief, can bring more focus to the Ohio engine maker's customer relationships and work to prevent development wrinkles like those affecting the GE9X turbofan, say aerospace industry analysts.
And new Embraer Commercial Aviation CEO Arjan Meijer has skills to help the Brazilian airframer maintain market presence despite the raging pandemic and the recently failed combination with Boeing, they say.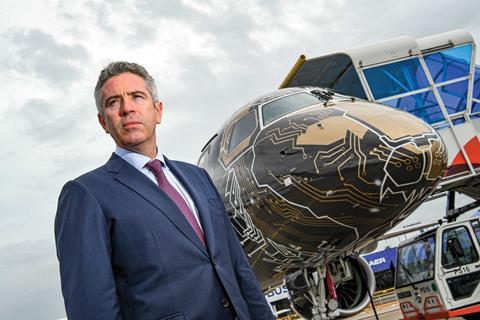 "It's a win-win for both sides. Both are good execs and I think we see some positive developments coming," says Ernest Arvai, president of aerospace analyses company AirInsight Group.
GE and Embraer disclosed the CEO shuffles on 15 June. Longtime GE Aviation CEO David Joyce is retiring and will be succeeded by Slattery, who will become president- and CEO-elect on 13 July. Slattery will fully take those positions on 1 September.
Embraer has already replaced Slattery with Meijer, an executive with vast marketing and sales expertise who was Embraer's chief commercial officer.
Teal Group aerospace analyst Richard Aboulafia notes that Slattery has a reputation for being an effective and respected global ambassador and sales person. Slattery is known for dedicating much time to visiting customers and building relationships, says Aboulafia.
Such skills could greatly benefit GE Aviation and contrast with the assets of highly respected longtime CEO Joyce, an executive with an engineering background who is known for technical expertise and programme management, Aboulafia says.
Joyce's skills proved valuable as GE Aviation developed important engine programmes, the most-recent being the GE9X, which powers the Boeing 777X, and CFM International Leaps, which power 737 Max, Airbus A320neo-family aircraft and Comac C919s. CFM is a joint business of GE and Safran Aircraft Engines.
With those programmes having largely moved beyond development, and with the pandemic raging, GE Aviation needs the customer-centric skills for which Slattery is known, Aboulafia says.
"They need a global diplomat right now," he adds.
"He knows the OEMs space. He knows the leasing company space. He knows the aftermarket," Arvai says of Slattery.
Also, Embraer is known for keeping nearly every of its aircraft development programmes on time. For that reason, Slattery can help GE Aviation progress smoothly with development of future technologies, such as those involving advanced materials such as ceramic matrix composites. He can also help GE Aviation avoid issues like the GE9X's stator vane problem, which delayed the 777X's first flight.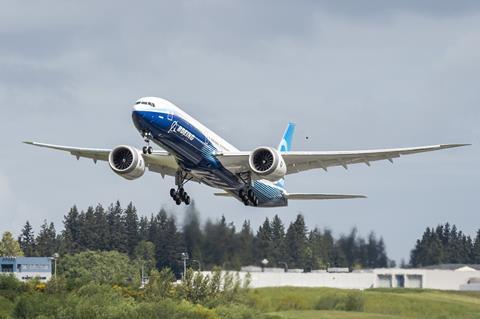 "We are seeing the first signs of slippage at GE," Arvai says. "John will ensure that it gets done… He's a really good candidate."
Slattery's move to GE Aviation surprised analysts, but they view the change as understandable owing to Slattery's ambition.
He was to head Boeing Brasil – Commercial, the company that would have been formed had Boeing moved forward with its $4.2 billion acquisition of Embraer's commercial division.
In a surprise, Boeing scuttled the deal in late April, accusing Embraer of failing to "satisfy the necessary conditions". Embraer denied those allegations, accusing Boeing of sabotaging the purchase.
Slattery was among the chief proponents of the combination, and therefore could have received political blowback in Brazil when the deal fell apart, potentially fueling his move to GE Aviation, Arvai speculates.
EMBRAER WITHOUT BOEING
Analysts agree Embraer faces a tougher road without Boeing, saying the combination would have helped it better compete against the A220. The company also announced on 15 June it secured $600 million in export financing and loans.
But they see Meijer, from the Netherlands, as having the international experience and marketing savvy needed to help Embraer maintain market share.
Embraer faces two notable challenges: dealing with customers who want to renegotiate sales contracts and ensuring those customers continue taking new aircraft, says Eliseo Llamazares, head of consultancy KPMG's Latin American aviation division.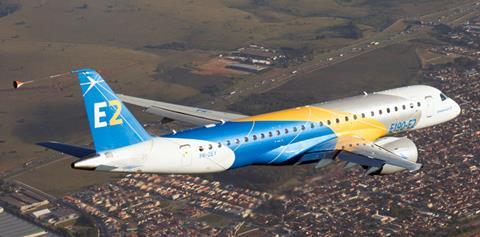 Tackling such issues requires a leader with global sales and marketing prowess – skills Meijer possesses, he says.
Meijer had been Embraer's chief commercial officer only since 2017, and he joined Embraer in 2016 as vice-president of commercial aviation for Europe, the Middle East, Africa and Russia. But previously he worked 15 years at KLM Group, holding senior technical, engineering and fleet development roles.
Arvai agrees Meijer is the right choice for Embraer: "He's got the international background, which is exactly what they need. He's worked all over the world".
WHAT'S NEXT FOR GE'S JOYCE
When Slattery becomes GE Aviation CEO on 1 September, outgoing CEO Joyce will transition to the role of non-executive chair. He will hold that position through year end and remain a "strategic advisor to GE Aviation into 2021", GE says.
"The big question now is: will he have another act?" Aboulafia says of Joyce. He calls Joyce "deeply respected – perhaps more on the engineering and programme management side".
Joyce joined GE in 1980 as a product engineer and worked 15 years in jobs focused on military and commercial engine design and development. He later was general manager of customer and product support and vice-president of commercial engine operations. He has been GE Aviation CEO since June 2008.
According to Aboulafia, Joyce was on the short list of executives under consideration to replace former Boeing chief executive Dennis Muilenburg, who left the airframer in December 2019 amid the height of the Max struggles.
But that job went to former Boeing board chair David Calhoun, who shows no inclination of stepping down soon.
Aboulafia can envision Joyce taking a seat on Boeing's board. Considering Joyce's management and engineering background, such an addition would go far in demonstrating Boeing's commitment to greater focus on "technical oversight and good governance", Aboulafia says.