Canadian regional carrier Harbour Air recently completed the first point-to-point flight of its heavily modified, all-electric De Havilland Canada DHC-2 Beaver.
The carrier, which is working to certificate an all-electric Beaver in the coming years, flew its electrified seaplane demonstrator from the Fraser River near Vancouver to Patricia Bay, which is adjacent to Victoria on Vancouver Island, the carrier says on 18 August.
The flight covered a distance of 45 miles (72km) and lasted 24min, with the aircraft landing with "ample power reserve", Harbour Air says.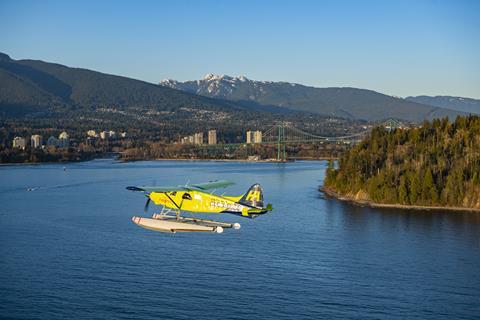 The airline calls the milestone its "first direct all-electric point-to-point test flight" of the "ePlane".
The airline first flew the electric Beaver in December 2019, following a modification process that involved replacing its Pratt & Whitney P-985 Wasp Junior piston engine with a 750hp (559kW) Magni500 electric powerplant, made by US firm Magnix.
Harbour Air has said the certificated version of the aircraft will be capable of carrying four passengers and a pilot, and operating flights lasting about 30min, with another 30min of reserve power.
The Vancouver-to-Victoria flight "went exactly as planned", says Harbour Air vice-president of flight operations Kory Paul. "Our team, as well as the team at Magnix and Transport Canada, are always closely monitoring the aircraft's performance, and today's flight further proved the safety and reliability of what we have built," he says.
Harbour Air flew the Beaver to Victoria for a local aviation event hosted by the British Columbia Aviation Museum.
The route is emblematic of the types of flights served by Harbour Air, which primarily flies between destinations in the Canadian Pacific Northwest, with a focus on flights from Vancouver. In addition to DHC-2s, Harbour Air flies DHC-6 Twin Otters and Cessna 208B Caravans, according to Cirium fleet data.
The company's electric-aircraft plans have already been delayed.
In early 2020, Harbour Air chief executive Greg McDougall said he aimed to have an all-electric Beaver flying passengers within two years.
That timeframe came and went.
In April, the airline said it did not expect to begin flight testing a certifiable version of its modified Beaver until 2023. It cited supply chain troubles and a revised development process as causing the delay.
Harbour Air also said it was working with Magnix on powerplant tweaks and edging closer to freezing the propulsion system's design. It is seeking regulatory approval for the modified aircraft under a supplemental type certificate.
Other partners in the project include Swiss battery provider H55, a spin-off of the Solar Impulse project, which developed and operated experimental solar-powered aircraft.
Though Harbour Air outfitted its all-electric demonstrator with a Magni500, Magnix has since replaced that powerplant and another (the Magni250) with two more-powerful variants: the Magni350 and Magni650.