While the 747 programme's last delivery has closed a chapter of history for the Boeing type, it will always remain "Queen of the Skies", in the opinion of Michael Lombardi, the company's senior corporate historian.
Speaking ahead of the final delivery event – staged at Boeing's Everett production site in Washington on 31 January – Lombardi outlined the extraordinary contribution to air travel that the 747 has made since its first revenue flight in January 1970.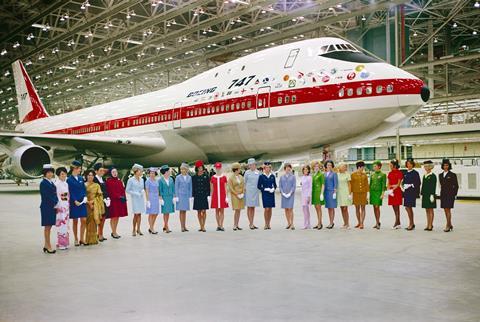 The product of an agreement between Boeing chief executive Bill Allen and Pan American World Airways boss Juan Trippe, who signed a contract in December 1965, the jumbo jet was rolled out in September 1968. By that time, the airframer had secured orders from more than two dozen airlines enticed by its scale and potential.
Its first aircraft, RA001, was flown for the first time on 9 February 1969, and deployed to Le Bourget later the same year to appear at the Paris air show.
MUST-HAVE FLAGSHIP
"When it came out, it was the must-have airplane – all of the airlines decided they needed to have it as their flagship," Lombardi says. He notes that this was even the case for some carriers "who didn't know what to do with it, and didn't have a route for it". He cites as an example 1980's US low-cost carrier People Express Airlines, which employed the jumbo for services between Boston and Denver, in addition to transatlantic flights.
"This airplane changed the world because of its size, its range and its efficiency. It made flight affordable – it democratised air travel," Lombardi says. "For ever, that will be the legacy of the 747. It shrank the world."
Boeing's design team – headed by Joe Sutter – had first explored the potential for a double-decker design with twice the passenger capacity of a 707, but discounted this, instead favouring a wide fuselage. They also opted to use an innovative raised cockpit design, so that the 747 would have built-in utility from day one as an "optimal freighter".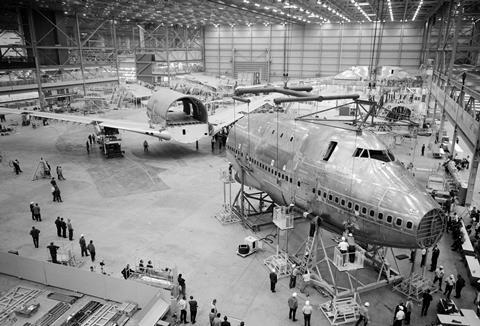 That upper-deck cockpit idea was carried forward from Boeing's proposal for the US Air Force's CX-Heavy Logistics System; a requirement ultimately met using the Lockheed C-5 Galaxy.
Lombardi recalls that during his discussions with Sutter, he "was adamant that the 747 would be from the ground up a brand-new aircraft", rather than revising the CX concept. Several design iterations were explored before the now iconic shape took form.
Designing the 747 to perform both passenger and cargo duties from the outset was in part due to Sutter's expectation that a coming breed of faster than sound airliners – Europe's BAC/Aerospatiale Concorde and Lockheed's Supersonic Transport – would before long kill demand for what would be the original widebody twin-aisle.
In addition to its transformational design, another key factor enabling the 747's success was the workforce which delivered it – a team Boeing dubbed "The Incredibles".
"A lot of the engineers and leadership were veterans of World War Two – they had that can-do attitude," Lombardi says.
WORKFORCE DEDICATION
"They were so dedicated," he says of the workers at Everett. "They knew that they were doing something new and amazing, building the world's biggest airplane. Because of this they would stay late at work. The managers would have to go through the factory and tell the employees to go home. They would go out the door, walk around the building and sneak back in and keep working."
The aircraft evolved over the years, with new variants emerging, but the creation of the -400, with its extended range, improved efficiency and new computerised cockpit – which enabled airlines to remove the flight engineer position – was perhaps its biggest advance. First flown in April 1988, it remains in widespread use today, almost entirely in the cargo role.
Latterly, the -8 model rounded out the programme, with its lengthened fuselage, new low drag, super-critical wing and GE Aerospace GEnx-2B engines. Cirium fleets data shows that 131 of the final variant are in use, split between -8F freighters and -8I airliners; the latter flown by Air China, Korean Air and Lufthansa.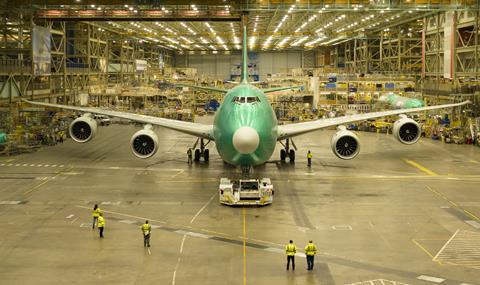 Intriguingly, Lombardi says additional variants could also have seen use, if concepts considered for the US Air Force (USAF) had become a reality.
One of these involved adapting the 747 to serve as an airborne aircraft carrier. This would see it transport, launch and recover up to 10 Boeing Model 985 "Micro Fighters", with onboard arming points also included.
Another idea was to equip the jumbo with six rotary launchers, enabling it to carry up to 100 air-launched cruise missiles. Instead, the USAF backed the development by Rockwell of the B-1B Lancer swing-wing bomber.
Lombardi, meanwhile, has little doubt that 747s will remain a familiar sight in the air for many more years – and likely until 2069; a full century after the first was delivered to an airline customer.
"We will be seeing the Queen of the Skies continue to cross the heavens for decades to come," he says. "There is great art in great engineering," he adds.
Asked what comes next, as Boeing finds itself with space to fill at its Everett site – which remains the world's largest free-standing building by volume – Lombardi offers his insight from the company's past.
"The history of Boeing is we have always come out with these wonderful airplanes," he notes. "If you follow that history you will be pretty confident that there will be something amazing – and not too far from now."
Craig Hoyle joined Flight International in 2003, and has edited the now monthly title since 2015. He has reported on the UK, European and international military aviation sector for more than 25 years, and produces our annual World Air Forces directory.