Iron Maiden frontman and 'Ed Force One' captain Bruce Dickinson reflects on his memories from flying Boeing's iconic 747 on the Book of Souls tour.
It was an idea that came into his mind during a routine discussion with a customer about simulator-based pilot training – would they consider leasing one of their Boeing 747s for careful use by one of the world's most famous heavy metal bands in 2013-2014?
What would have seemed a madcap notion from some was in fact the logical next step for Iron Maiden frontman Bruce Dickinson. Already qualified as a captain on the 737 Classic, NG and 757, he had flown the latter on previous world tours, travelling the equivalent of three times around the world. The problem was, the narrowbody simply wasn't big enough to transport the band, its support team and equipment.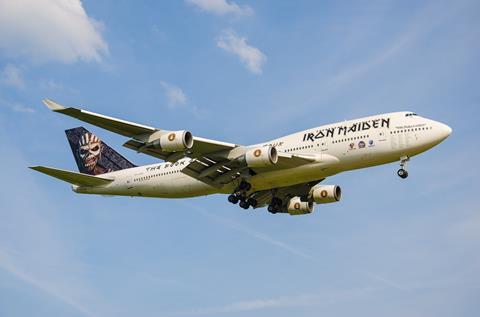 Due to a bout of throat cancer which struck the singer, the world had to wait until 2016 before an Air Atlanta Icelandic-owned 747-400 emerged in the 'Ed Force One' livery used for the band's Book of Souls tour. Depicting Iron Maiden's gruesome mascot Eddie, this instantly made it one of the most famous aircraft on the planet.
"It was an immaculate, ex-Air France 747," Dickinson recalls. The tour was not without incident though, with a ground tug striking and damaging two of its engines during a towing mishap in Santiago, Chile – the job of flying in and fitting replacements was completed within eight days.
Being one of three captains who flew the aircraft during the 117-date tour was a clear highlight for the avid flier, who still is regularly asked about his time at the controls of the iconic jumbo.
"Captaining a 747 – that really seized peoples' imagination", he says, noting that he is frequently asked questions like "What is your favourite: Airbus or Boeing?"
PILOT'S PERSPECTIVE
Speaking to FlightGlobal days before the last ever 747 was delivered on 31 January, Dickinson shared his pilot's perspective on flying the Queen of the Skies.
"Jets have similar characteristics, but with the 747 you realise as you approach it that you are actually approaching a legend. It's a hugely impressive aeroplane, and it looks beautiful." His family already had a long association with the jumbo, with his uncle Chris having for many years been a flight engineer on the type for British Airways.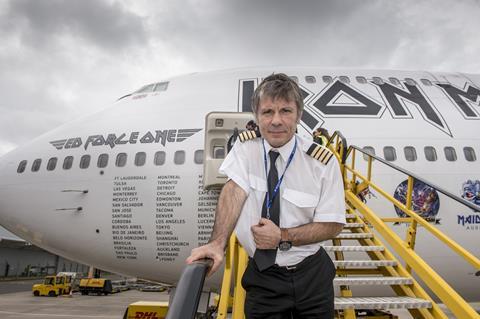 "On the ground it's quite stately. In the air it's surprisingly agile, and very fast," he says. Thinking back to his flight school days and topics like inertia, he notes: "When you are flying a 747 you can't get away with flying the aeroplane six miles behind the aeroplane – you have got to be well in front."
With his passion for the jet clearly undiminished, he adds of its design: "The aeroplane is probably the best landing jet that has ever been built." Its signature smooth landing is, he suggests, "80% the aeroplane, and only 20% the pilot".
MAGNIFICENT WING
"Every one is like [being in] an armchair – it's the geometry of it, and that magnificent wing just lets the aeroplane stop flying gently," he notes. "It just eases you gently onto the ground."
While on tour, he notes, each concert was treated as the equivalent of an airline fight sector, with associated crew rest times observed. "We never flew straight after a gig," he notes.
"On the ground it's quite stately. In the air it's surprisingly agile, and very fast,"
The art and experience of flying has also inspired Dickinson musically. While bass player Steve Harris wrote the anthemic track Aces High, the band's vocalist penned the lyrics for the 2010 track Coming Home, inspired by long-distance journeys as seen from the cockpit.
But when Iron Maiden head back on tour from May, this time Dickinson will not be in the cockpit.
"I'm 65 in August, and I genuinely just don't have the time," he explains. In addition to his music career, he is also the director of Caerdav – previously named Cardiff Aviation – which is thriving and expanding in the airline MRO sector.
"We have 120 full-time employees and are looking to hire another 80," he says. "We are working with Ryanair, TUI and blue-chip companies. The emphasis is: on time and very high quality."
MRO FOCUS
Caerdav's MRO focus has seen it close its previous airline operation – which he says was afflicted by "monstrously unreliable" aircraft – and also exit the pilot training sector. He is currently seeking a buyer for the 747-400 simulator which inspired his vision for the ultimate Ed Force One, with the device currently being brought back online at its Cardiff airport site.
Dickinson remains a keen pilot, and despite having sold his Fokker triplane he retains part ownership of a Bulldog trainer, occasionally using this for the London-Cardiff commute. He may also consider restoring his commercial pilot's licence, but describes the ongoing post-Brexit situation between the UK and the European Union Aviation Safety Agency as a "bloody mess".
"I have no space in my life to spend hours waiting on an automated telephone system to try and talk to a human being, when they don't seem to exist anymore," he says.

Craig Hoyle joined Flight International in 2003, and has edited the now monthly title since 2015. He has reported on the UK, European and international military aviation sector for more than 25 years, and produces our annual World Air Forces directory.
View full Profile