US aerospace company Icon Aircraft expects the Federal Aviation Administration will certificate its A5 amphibian as a "primary category" aircraft by late 2021 – a milestone the company says will expand the A5's international appeal.
The FAA now classifies the type as a "light-sport aircraft". But the A5's weight requires the aircraft have an exemption to fit within that category – an exemption Icon would also need for approval of the A5 in other countries, Icon says on 26 July.
But the A5 needs no weight waiver if certified as a primary-category aircraft – a type certificate reserved for personal-use aircraft with a "simple design". If type certificated, Icon could pursue approval outside the USA via the long-standing international validation process.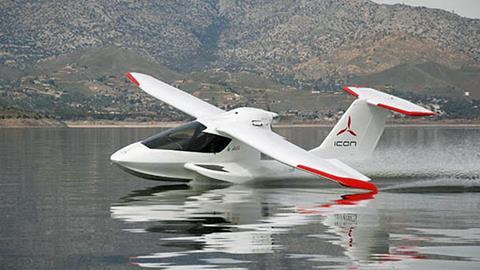 Such a certification will "pave the way for the A5 to be exported to and registered in countries that do not recognise the light-sport model of the aircraft", Icon says.
The move will position Icon to land more international sales and to "meet the needs of deposit holders and sales partners outside the US", it adds. "For US customers, a type-certified A5 has the advantage of simplified international travel requirements for flying to the Caribbean or operating the A5 from a yacht in foreign waters."
The certification "is in the final stages" of FAA approval, with completion expected in "late 2021".
Based in Vacaville, California, Icon began flight-testing its A5 in 2008, though the programme's progress came slow amid financing issues. The FAA issued its first A5 airworthiness certificate, under the light-sport category, in 2015. Icon delivered the first A5 that year.
The primary-category and light-sport versions of the A5 will have the same performance specifications.
Powered by a single 100hp (74kW) gas-burning Rotax 912, the two-seat A5 has maximum take-off weight (MTOW) of 686kg (1,513lb), range of 427nm (791km) and 95kt (176km/h) maximum speed. The aircraft has Garmin avionics, folding wings and a parachute system.
The A5's 686kg MTOW exceeds the FAA's 650kg MTOW for amphibious light-sport aircraft, though Icon has worked around that requirement in the USA with a waiver. Primary-category aircraft can have up to four seats and MTOW of 1,225kg.
"Given that each country would require this same waiver process, we felt that it would be more efficient to pursue FAA type certification as a smoother path to validation in these countries," Icon says.
Icon expects to deliver 31 aircraft in 2021 and aims to hand over more than 50 A5s in 2022.