Airbus has criticised the US government's decision to increase tariffs on imported aircraft, claiming it simply exacerbates problems for the country's own airlines.
The US Trade Representative decision – which hikes tariffs from the previous 10% to a level of 15% – is a consequence of the long-running transatlantic subsidies dispute with the European Union.
Airbus says it "deeply regrets" the measure.
It warns that, as well as escalating the trade dispute, it creates "more instability" for those US carriers which are "already suffering from a shortage of aircraft".
Thirty percent of all Boeing 737 Max jets already delivered – and grounded since March last year – have gone to US customers, including lessors.
American Airlines, United Airlines and Southwest Airlines are among operators which are unable to use their Max fleets.
Airbus argues that US carriers have put forward "many" submissions pointing out that tariffs will effectively punish US passengers when costs are passed down.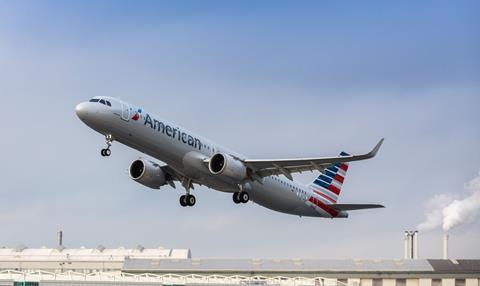 The airframer adds that the escalation "complicates" any future negotiation effort to resolve the dispute.
"This is regrettable," it says, adding that it will continue talks with US customers to "mitigate" the impact of tariffs as far as possible.
Airbus has long argued that a negotiated settlement is the only sensible outcome, a point which chief executive Guillaume Faury reiterated during a briefing in Toulouse on 13 February.
Faury also pointed out that the European Union is likely to impose similar countermeasures later this year in its own case against US government support to Boeing.
Airbus says it hopes the US Trade Representative will change its position once the World Trade Organization authorises these countermeasures – which are set to affect imports of the 777, 787 and 737 Max – around May-June.