Air Baltic overcame the impact of around 25% of its own fleet being grounded during the second quarter to report a profitable first half of 2023.
Outlining its six-month performance on 9 August, the carrier said it continues to see reliability issues with the Pratt & Whitney PW1500G engines that power its all-Airbus A220-300 fleet – a situation exacerbated by a shortage of spare engines, which is prolonging aircraft time on ground.
In the April-June period, on average, 11 of its A220s were grounded at any one time, it says, echoing recent challenges faced by other operators of aircraft with PW1000G-family engines.
To offset those groundings, Air Baltic has continued to wet lease-in capacity – largely older A320s – with a number of undesirable consequences, including increased fuel burn, punctuality issues relating to more complex operations, reduced load factors, higher airport and handling charges, lower customer satisfaction, and costs to secure the leases, it says.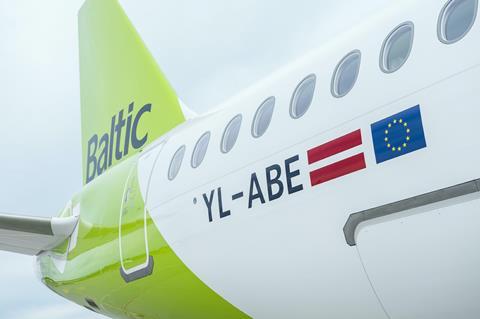 It estimates that extra costs relating to the leasing-in of aircraft amounted to around €30 million ($33 million) in the second quarter alone. At the beginning of July 2023 – outside the first-half earnings period – it received a €20.4 million "commercial support payment" relating to the engine issues, the carrier says.
Despite its engine challenges, Air Baltic swung to a net profit of €14.6 million for the January-June period, from a loss of €91 million a year ago. EBIT also reached €31.8 million, against a loss of €24.8 million in 2022.
Its record first-half revenue of €291 million was up 52% year on year and 33% over its 2019 figure, helped by "healthy yields".
Some 15%, or €45 million, of the carrier's revenue came from ACMI lease deals with other airlines. Air Baltic had previously indicated that it would wet lease-out up to 14 of its A220s for the summer season, as its own markets felt the impact of the Ukraine war in particular.
The war has had a significant impact on transfer passengers in its own operations, the airline says, with such travellers accounting for 29% of the total in the second quarter of this year, versus 46% in 2019. Amid that change in passenger dynamic, Air Baltic is "gradually shifting away" from its hub-and-spoke model at Riga, it says, towards more point-to-point services. This will help to improve its aircraft utilisation, which was 7.3 block hours in the second quarter of this year, versus 9.6 per day in 2019.
Air Baltic carried 2 million passengers across the six months, which marks a 52% rise year on year but still lags its performance in 2019 by around 200,000.
It ended the first half with 42 Airbus A220-300s in its fleet and expects to have 50 by the end of 2024, completing deliveries under its firm order.
The carrier's net debt grew by 11% year on year, reaching €1.1 billion – a 72% rise since 2019.