Air Canada is to introduce up to six De Havilland Dash 8-400 turboprops from regional operator PAL Airlines, to help ease capacity pressure from pilot shortages.
The Canadian flag-carrier has provisionally agreed – through a letter of intent – to use the aircraft on regional services in the east of the country.
Under the proposal PAL Airlines would acquire up to six Dash 8s to operate on the Air Canada network for up to five years.
The services would be branded as Air Canada Express, and complement Newfoundland-based PAL's own scheduled route network.
PAL president Calvin Ash says the services would be an "extension" of its strategy to build a strong presence in eastern Canada.
"It would support continued growth in our operation, deepen our ability to build regional connectivity, and fortify PAL Airlines' presence in the communities who have always supported our development," he adds.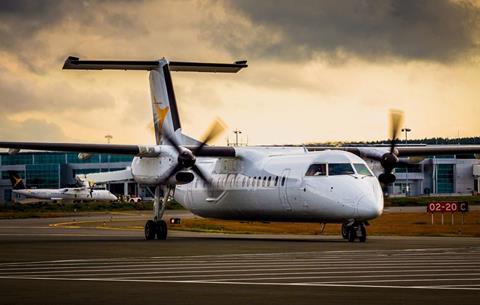 Air Canada says the PAL pact has yet to be finalised.
It already has an Air Canada Express regional co-operation with Jazz Aviation and insists that Jazz remains its "long-term" partner for such services.
"We are working together to increase flying activity within the framework of our existing [capacity purchase agreement] given the current industry-wide pilot situation," says Air Canada chief Michael Rousseau.
Rousseau describes the potential PAL deal as a "bridging arrangement" to deliver additional capacity on "select routes".
Jazz parent company Chorus Aviation says the deal "does not impact" the company financially, and that the addition of the PAL Dash 8s is intended to meet travel demand.