The union representing Jazz Aviation pilots has accused the Canadian regional airline – along with mainline partner Air Canada – of engaging in unfair labour practices during recent contract negotiations.
Major pilots' union Air Line Pilots Association, International (ALPA) said on 28 August that it has filed a complaint with the Canada Industrial Relations Board (CIRB) after reaching an agreement with Jazz to modify its existing collective bargaining agreement.
ALPA argues that "management of both Air Canada and Jazz Aviation violated several sections of the Canada Labour Code by refusing to comply with contractual pilot 'flow' agreements from Jazz to Air Canada, respecting Jazz's exclusivity in the regional sector".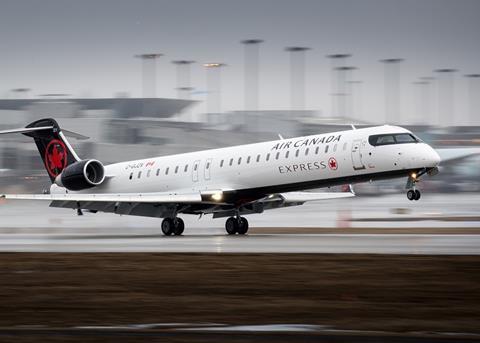 The dispute stems from Air Canada's five-year deal with PAL Airlines, through which the regional operator will fly up to six De Havilland Canada Dash 8-400s along the country's Atlantic coast on behalf of Air Canada.
"Jazz's pilot availability challenges and our desire to continue serving certain communities" caused Air Canada to seek "interim lift" through PAL, the carrier says.
"Jazz and Air Canada have increased system capacity at the expense of collective agreement violations," says Claude Buraglia, chair of Jazz's chapter of ALPA. "We understand that Canada's airlines are struggling to attract enough pilots to fulfil demand and are under an immense amount of pressure to do so. Labour, in particular the pilots, are an important part of the solution."
Jazz parent Chorus Aviation did not comment on the negotiations.
Air Canada is reviewing ALPA's filing and intends to "represent our interests as appropriate in front of the Canada Industrial Relations Board", it says, declining to comment on the merits of the case.
The Montreal-headquartered carrier adds that its relationship with Jazz is "instrumental" in its ability to connect communities throughout Canada.
"The flow-up agreement is a key differentiator for Air Canada and for Jazz," says the airline. "It enables Jazz to attract pilots, given the solid career path offered for pilots joining Jazz, and it allows a constant flow up to Air Canada with pilots that are familiar with its standard operating procedures and brand."
The recently ratified agreement between Jazz and its pilots "will provide our partner with more tools in an environment where we have been constrained by the availability of regional pilots", Air Canada says.
Effective 1 September, the modified deal – which will not have a financial impact on Chorus – "recognises the changing pilot wage environment and provides Jazz with improved recruitment and training options", says Randolph deGooyer, president of Jazz. "Through this modified agreement, we have shown a shared commitment to addressing industry challenges collaboratively."
"Jazz has an excellent track record of finding solutions and working well with its unions," adds Colin Copp, chief executive of Chorus. "These changes will further position Jazz as the leading regional operator in Canada."
ALPA says that the deal was ratified without "overwhelming support" from Jazz pilots and that "there are still underlying foundational issues which remained unaddressed in bargaining".
The union's complaint requests an order for "Jazz, along with Air Canada, [to] cease and desist violating the Canada Labour Code". It also requests an order from CIRB for all parties to honour commitments made during collective bargaining.
"Jazz pilots remain committed to helping Air Canada build a stronger and more viable network," says Buraglia. "However, this also needs to be done in a way that respects and upholds the collective agreements in place."
Chorus reported a second-quarter profit of C$20.3 million ($15.2 million) as it benefited from aircraft leasing revenue, foreign exchange rates, parts sales, MRO activities and contract flying.
In addition to Jazz, Chorus owns Canadian regional airline Voyageur Airways, plus aircraft lessor Falko Regional Aircraft.