Regional carriers Air Nostrum and CityJet have formally joined forces to create a European regional airline alliance, nearly five years after a tie-up was first proposed.
The agreement announced on 17 October involves the creation of SARA – the Strategic Alliance of Regional Airlines – with Air Nostrum parent Air Investment Valencia taking an 80% stake and CityJet parent CF Miga Investment Holdings taking 20%.
The agreement stops short of the merger that was mooted pre-Covid, with the parent companies continuing to hold 100% stakes in their respective airlines and units.
Speaking to FlightGlobal, Air Nostrum chief executive Carlos Bertomeu – who also becomes chief executive of the new alliance – states: "The idea is to make a strategic [European regional airline] group with common decisions and synergies."
He describes the alliance as a "holding company" and notes that it will expand through organic growth and "targeted M&A".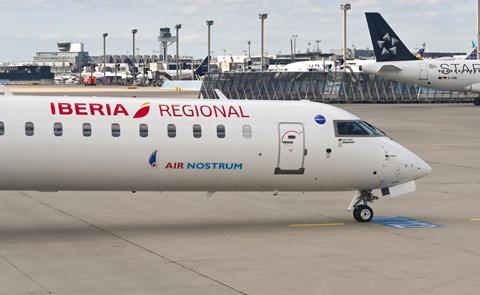 The announcement comes after the tie-up was cleared by the European Commission for the second time in March this year – a moved made necessary by the restructuring of the partnership to reflect the financial realities faced by the two operators as they emerge from the Covid-19 pandemic.
Those financial realities – including the restrictions on Air Nostrum's investments as a result of the state aid it received during Covid-19 and those relevent to CityJet after it went through the Irish examinership process – meant a deeper merger was not possible.
Still, Bertomeu's belief is that the rationale for forming the alliance is as strong today as it was in 2018, when a tie-up was first proposed at the Farnborough air show: namely that a US-style, consolidated regional airline sector will develop in Europe, with external platforms increasingly providing the capacity.
With that in mind, the alliance is aiming to increase its fleet to more than 100 aircraft over the next three years, from around 74 today.
"In the future I think that majors, our clients, will arrive at the conclusion that this is the kind of thing that is better externalised and better with somebody they can trust, with experience, and we deliver that," he states.
Air Nostrum does the majority of its flying for Spanish flag-carrier Iberia, while CityJet undertakes wet-leasing for operators including SAS, Lufthansa and Brussels Airlines.
The Spanish carrier has 48 aircraft in its fleet – including three with separate capacity provider Hibernian Airlines, which is owned by Air Nostrum's parent and included in SARA – while CityJet's roster features 26. Both fleets are dominated by Bombardier CRJ-series aircraft.
Air Nostrum's maintenance and training operations are also listed as part of SARA, as are several of its service units and CityJet's separate Danish business.
CityJet chief executive Pat Byrne is among the directors of the new alliance.