AirAsia Group is exploring options for an airline presence in IndoChina after narrowing losses in its latest financial results and optimism of strong domestic rebound in the markets it serves.
In the group's financial results for the quarter ended 30 September, AirAsia Group president for airlines Bo Lingam states: "[We] are also actively exploring opportunities for a local airline presence in IndoChina."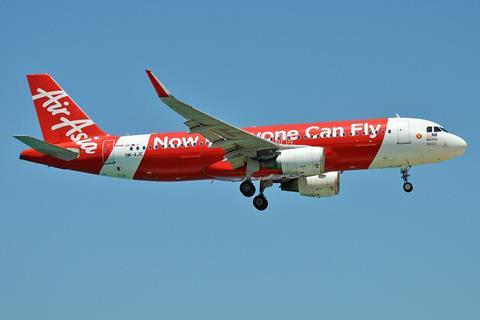 He did not provide further details, including where it might be based. IndoChina comprises Vietnam, Laos and Cambodia.
A new carrier, if created, would be the group's sixth unit in Asia — after Malaysia, Indonesia, Thailand, the Philippines, as well as India. AirAsia Group though has just shuttered operations in Japan, as a result of what it called a "highly challenging operating market", and said earlier in the month that it was reviewing its investment in the Indian unit.
Lingam notes that the group's carriers have seen strong domestic recovery in the third quarter of the year, and that the group is "prepared to maintain sustainable operations solely on the back of our domestic sectors into 2021", even as it remains hopeful for international travel restrictions to be lifted.
Echoing his sentiment, AirAsia Group chief executive Tony Fernandes says: "Despite expecting a capacity drop of 60% in 2020 due to minimum international operations, we are ready to rely purely on the strength of our domestic markets [in 2021]."
Lingam adds: "Our top priority at this point is to gradually increase our operations in phases, starting with strengthening our domestic foothold across our key markets as the borders remain closed."
During the quarter, Malaysian unit AirAsia Berhad saw a 36% month-on-month rise in passengers carried, while its Thai carrier increased passenger numbers rise 65% month on month. AirAsia India, meanwhile, recorded a 79% month-on-month increase.
On the international front, Lingam says the group is "hopeful" about the establishment of travel bubbles and green lanes for essential travel.
"We foresee further formations of travel bubbles across countries in Asean [Association of Southeast Asian Nations] which would boost our operations given our strong foothold and dominance in Asean. We remain positive about these developments and are fully committed to support these efforts," says Lingam.
LOSSES NARROW, COST-CUTTING UNDERWAY
For the quarter, AirAsia Group reported an operating loss of MYR1.02 billion ($250 million). That compared with a MYR264 million operating profit it made during the same quarter last year.
However, it did mark a slight narrowing on the previous quarter's operating loss of MYR1.18 billion.
It reported a net loss of MYR1.08 billion, widening last year's net loss of MYR67.5 million.
Group revenue for the period plummeted 86% year on year to MYR443 million, while expenses fell about 36% year on year, to MYR1.92 billion.
Quarter on quarter, AirAsia Group saw revenue quadruple, while expenses edged up more than 40%.
The group states that it managed to shave off 50% in fixed costs in the quarter, with maintenance expenditure was cut 68% due to asset optimisation.
However, depreciation and finance costs went up 5% year on year, due to the higher number of leased aircraft, says the group.
To keep a lid on expenses, the group says it is undertaking cost-cutting measures, and expects a more profitable business in the near term.
It has disposed of spare engines in the quarter, in a bid to raise cash, and is "open to other potential monetisation opportunities where the value and time is right".
"We foresee sufficient liquidity in 2021 with the expectation of upward growth trajectory in air travel demand amid the further formation of travel bubbles and green lanes," says Fernandes. "We have high hopes that with the availability and accessibility of effective vaccines, AirAsia will soon paint the skies red again."
He adds: "Post-Covid-19, we expect the Group airline business to be more profitable as we have established leaner optimised operations, removed loss-making routes and stations while concentrating on the most profitable and popular ones coupled with rational competition and the expectation of lower fuel unit cost in 2021."