AirAsia Aviation carriers are to reallocate more capacity to their international networks, amid a "resurgence" in demand in international travel.
It comes as the airline units in Malaysia, Indonesia, Thailand and the Philippines reported a two-fold increase in passenger volumes in the April-June quarter, with capacity and traffic also seeing significant growth year on year.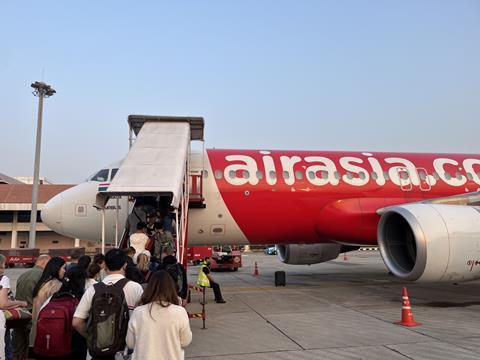 During the quarter, AirAsia carriers carried more than 14.2 million passengers, or around 74% of pre-pandemic levels. Among the units, AirAsia Thailand and Indonesia reported the largest jump in passenger numbers, at more than two-fold year on year.
Group ASKs and traffic more than doubled during the quarter, with capacity recovering to around 73% pre-pandemic levels.
"Throughout the [quarter], the domestic performance was incredibly strong and international market traffic remained buoyant with favourable load factor. In response to the robust international market demand, the group has reallocated more capacity to international routes to meet the strong resurgence from the international market," says AirAsia Aviation.
At the end of the quarter, the four carriers operated a fleet of 146 aircraft.
Separately, medium-haul sister operator AirAsia X reported an increase in passenger numbers during the quarter. The Malaysian operator carried close to 622,000 passengers in the April-June period, up 23% against the previous quarter.
It is also a significant jump compared to the relatively lower base of 8,900 passengers last year.
Passenger load factor jumped 47 percentage points, as a jump in traffic far outpaced the increase in capacity during the quarter.
At the end of the quarter, AirAsia X operated a fleet of 17 Airbus A330s, six more than the year-ago period.