Volga-Dnepr Group-linked carriers CargoLogic Germany and the UK's CargoLogicAir appear to have been caught up in the fall-out from sanctions imposed on Russia's aviation industry.
CargoLogic Germany has been told it is no longer permitted to fly in EU airspace, while CargoLogicAir has not conducted a flight for almost two weeks.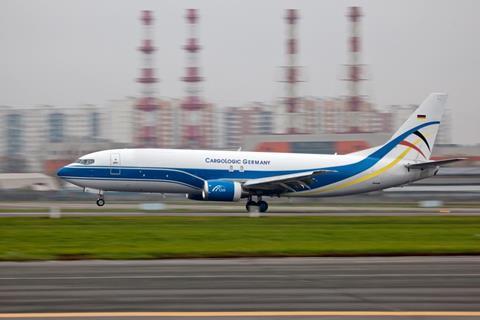 Leipzig-based CargoLogic Germany told FlightGlobal's sister publication Air Cargo News that it was informed by the German regulator on 11 March that its aircraft are not currently permitted to enter EU airspace, except for emergency landings and emergency flyovers.
"The reason for this move is the current political situation and related sanctions," the company says. "We very much regret this decision and are currently engaging in intensive talks with all relevant authorities and stakeholders.
"These discussions aim to allow our German company, headquartered in Leipzig, to resume flight operations as quickly as possible as a reliable partner and employer."
CargoLogic Germany's fleet of four 737 freighters are listed as being stored at Budapest, Katowice, Helsinki Vantaa, and Ostrava Mosnov with no flights in the last seven days.
Meanwhile, flight tracking websites show that UK-registered CargoLogicAir's two Boeing 747-400Fs are currently parked at Los Angeles International and Frankfurt Hahn having conducted their last flights on 11 March and 10 March, respectively.
The revelations come as a series of sanctions affecting the aviation industry have been put in place by Western countries following Russia's invasion of Ukraine.
Both airlines are subsidiaries of UK-based Cargo Logic Holding, which, according to financial filings, is owned by Alexey Isaykin, a Soviet-born entrepreneur with Cypriot citizenship.
Isaykin is a director of both CargoLogicAir and Cargo Logic Holding; US national Konstantin Vekshin is also a director of CargoLogicAir.
Additionally, Isaykin is president of Russia's Volga-Dnepr Group, and a director of Volga-Dnepr UK, while Vekshin is chief executive of Volga-Dnepr Group.
CargoLogic Germany stresses that it is entered in the Leipzig Commercial Register as a German company, pays its taxes and duties in Germany, and operates in compliance with that company's laws; its management team is completely independent, it adds.
"Despite our international business ties and partnerships, we are and remain a completely independent and German company," the airline says.
"Airfreight is an international business model. As such, CargoLogic Germany cultivates international business ties and partnerships with around 12 countries, including Russia. "
CargoLogicAir has yet to respond to questions.
The UK's Civil Aviation Authority says that CargoLogicAir holds a valid operating licence.
When the UK announced an airspace ban for Russian carriers in late February, the Department for Transport pointed out that CargoLogicAir is a UK-registered business with an air operator certificate issued by the Civil Aviation Authority.
The Volga-Dnepr Group works closely with both CargoLogicAir and CargoLogic Germany, with the relationship between the various carriers in the group described as a strategic partnership.
Volga-Dnepr Group includes cargo carriers Volga-Dnepr Airlines, AirBridgeCargo and Atran.
AirBridgeCargo and Atran in the last few days confirmed that they had taken the decision to ground their fleets in light of sanctions requiring lessors to cancel lease deals with Russian airlines and the decision of Bermuda Civil Aviation Authority (BCCA) to suspend all airworthiness certificates for Russian aircraft on its registry.