Irish aircraft lessor AerCap has filed $3.5 billion worth of insurance claims as compensation for aircraft and aircraft engines that Russian airlines have not returned since Western government slapped Russia with economic sanctions.
Speaking on 30 March, AerCap executives said that prior to sanctions – levied in response to Russia's invasion of Ukraine – AerCap had 135 aircraft and 14 aircraft engines on lease to Russian companies.
Those and other sanction-affected assets were worth about $3.1 billion, or 5% of AerCap's total fleet value, at the end of 2021. The assets generated about $33 million in monthly revenue.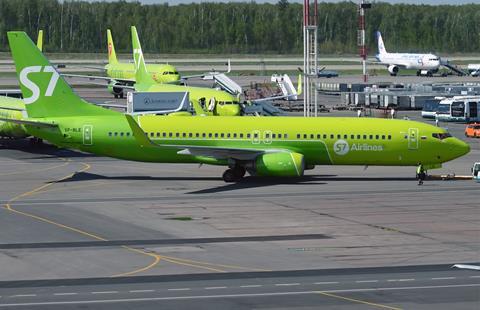 AerCap chief executive Aengus Kelly says his company has successfully repossessed 22 of those aircraft and three of those engines.
"As a result of the far-reaching sanctions against Russia imposed by various governments, aircraft lessors [that] have operations through the EU, US and various other countries are prohibited from supplying aircraft and aircraft components to Russia," Kelly says.
He and other executives laid out AerCap's Russian exposure during the company's 2021 earnings call on 30 March. AerCap turned a $1 billion profit last year, reversing a $295 million loss in 2020.
"AerCap has terminated all aircraft and engine leases we have entered into with Russian entities," Kelly adds. "We have taken aggressive steps to recover these assets".
AerCap chief financial officer Peter Juhas says many of AerCap's aircraft in Russia "are now being flown illegally by our former airline customers".
"We continue to make efforts to repossess additional aircraft and engines from Russia, but it is uncertain whether we will be successful," Juhas adds.
Last week, AerCap filed the $3.5 billion in insurance claims.
Kelly notes that AerCap requires customers to hold insurance policies covering "total loss of an aircraft". AerCap itself also holds insurance.
"We intend to vigorously pursue all of our claims under these policies with respect to our assets leased to Russian airlines, as well as all other legal remedies that may be available to us," says Kelly.
Russian airlines that operate AerCap-owned jets include Aeroflot, Rossiya Airlines, S7 Airlines, Smartavia, Ural Airlines, according to Cirium data.
AerCap has also repossessed five of seven aircraft leased to Ukrainian companies, its executives say.