Russia's Aeroflot Group says it has completed a settlement with lessor AerCap concerning a batch of aircraft operated by its carriers, which were retained as part of a Russian government seizure of foreign-built fleets in response to international sanctions over the Ukrainian conflict.
Aeroflot Group says AerCap has "ceased" its claims under leasing agreements with operators Aeroflot and Rossiya as well as Russian insurance firms.
Ownership of the aircraft – as well as five engines – has been transferred to an insurance company identified as NSK, which has paid the settlement sum. Aeroflot Group has not identified the types involved.
AerCap confirms that it received cash insurance proceeds of $645 million on 5 September, in "full settlement" of its claims in respect of 17 aircraft and five spare engines on lease to Aeroflot and Rossiya.
"Effective upon receipt of these insurance settlement proceeds from [Russian insurer NSK], we have released our claims against NSK, Aeroflot, Rossiya and their international reinsurers with respect to these aircraft and engines," the lessor says.
It states that the insurance settlements and proceeds have been approved by US government authorities and are consistent with sanctions regimes.
AerCap says its separate $3.4 billion claim against "all risks" insurers included $908 million relating to the 17 aircraft and five engines, and the overall claim will fall to $2.75 billion as a result of the settlement.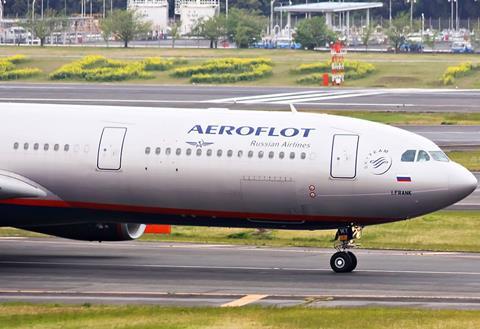 During a half-year results briefing at the end of July, AerCap chief financial officer Pete Juhas said the lessor was "continuing to pursue" claims against Russian airline insurers and its own insurers regarding the lost aircraft.
Juhas referred to discussions regarding a "potential insurance settlement" over some of the aircraft, but would not elaborate given the sensitivity of the talks.
AerCap says that, despite the Aeroflot settlement, the outcome of such discussions remains uncertain. "In particular, it remains uncertain whether the necessary approvals and funding to complete any such further insurance settlements can be obtained," it adds.
Aeroflot Group says it is "continuing negotiations" to resolve further claims with other lessors of its foreign-built aircraft fleet.