China's three largest carriers reported year-on-year declines in their full-year traffic results for 2020 as the coronavirus outbreak impacted travel demand, particularly in their international networks.
However, a strong domestic recovery for most of the second half of the year helped the 'Big Three' — China Southern Airlines, China Eastern Airlines and Air China — offset any steeper plunge in full-year passenger traffic.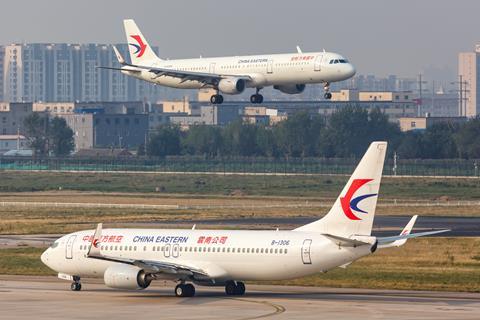 In separate traffic results released on 15 January, the three carriers saw full-year passenger numbers drop by around 40% year on year. Overall capacity and traffic, measured in ASKs and RPKs respectively, also saw declines — of between 38 to 52% — compared to full-year results from 2019.
China Southern carried 96.9 million passengers for the year across its network, a 36% year-on-year drop. Overall RPKs shrank 46%, while ASKs fell by 38% year on year.
On the domestic front, the airline carried 93.9 million passengers in 2020. Compared to 2019, it represented a 27% drop. Domestic RPKs fell 28%, while ASKs saw a 18% decline year on year.
Compatriot China Eastern carried 74.5 million passengers in 2020, a 43% year-on-year decrease. The SkyTeam carrier reported a 52% fall in RPKs, and a 44% drop in overall ASKs, compared to 2019.
China Eastern carried 71.9 million domestic passengers for the year, which was a 34% decrease compared to 2019. Domestic RPKs shrank 33%, while ASKs slipped 22% year on year.
As for Air China, it carried 68.7 million passengers in 2020 across its networks, a 40% decline year on year. Overall RPKs fell 53%, while ASKs across the network decreased 46% year on year.
The airline carried 65.8 million domestic passengers in 2020, a 29% drop compared to 2019's numbers. Domestic RPKs fell nearly 30%, with ASKs slipping 19% year on year.
Across the three carriers, full-year international traffic numbers recorded steep plunges, due to international travel restrictions imposed to curb the spread — and importation — of the coronavirus.
The 'Big Three' saw passenger numbers plummet around 87% year on year, with international ASKs falling around 81% and RPKs plunging about 86% compared to 2019.
The three carriers also released traffic results for December, where they each reported a second consecutive month-on-month decline in domestic passenger numbers, both in capacity and traffic.
In November, all three airlines saw passenger traffic shrink — on a month-on-month basis — for the first time in more than half a year, due in part to a resurgence in domestic coronavirus cases.
China — where the first cases of the coronavirus were discovered — has claimed to keep the outbreak largely under control, but it has seen an uptick in local cases in recent months.