Chinese domestic traffic during the summer period grew above pre-pandemic levels, even as international recovery remains sluggish.
According to data released by the Civil Aviation Administration of China (CAAC), Chinese airlines carried around 130 million domestic passengers during the July-August period, a 7.4% increase compared to the same period in 2019.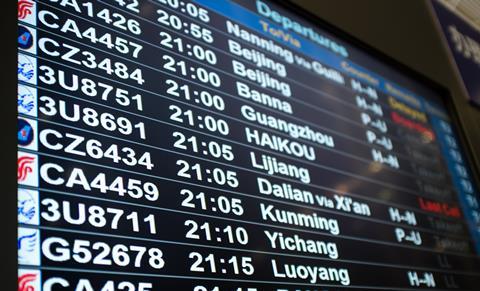 The regulator adds that there were over 1 million flights mounted during the two-month period, similar to pre-pandemic levels.
The CAAC notes that Chinese cities seeing the highest demand includes major metropolises like Guangzhou, Shenzhen, Beijing, Chengdu and Shanghai. Routes that see high demand include Shenzhen-Shanghai, Guangzhou-Hangzhou, Beijing-Shenzhen, it adds.
However, CAAC data shows that the number of international flights remains well below pre-Covid-19 levels. During the July-August period, there were an average of around 1,100 international flights, which is only 44% of 2019 levels.
The latest traffic data comes as China's major operators narrow their operating losses in their half-year earnings. While domestic traffic has largely recovered close to pre-pandemic levels, international traffic has been slower to recover.
China in late-2022 reopened its international borders, after it scrapped most of its 'zero-Covid' travel restrictions.