Cyprus Airways has started introducing a pair of Airbus A220-300s, part of a lease agreement disclosed during the Paris air show.
The aircraft will complement the pair of A320-family jets already used by the carrier on its network to 19 scheduled destinations.
Both A220s – MSN55208 and MSN55203, registered 5B-DEB and 5B-DEA – are being acquired through US lessor Air Lease.
Cyprus Airways says the Pratt & Whitney PW1500G-powered aircraft will enter service with the airline "in the coming days" and be deployed on routes to its "most popular destinations".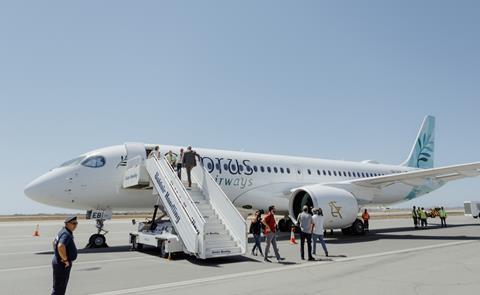 "From an A320 operator, the transition to the advanced A220-300 signifies a remarkable milestone and a new era for us," says chief executive Paul Sies.
"This aircraft is celebrated for its exceptional features and capabilities and perfectly aligns with our vision to strike the best balance between passenger comfort and operational efficiency."
Cyprus Airways held an inauguration ceremony for the twinjets at Skylink Services' VIP terminal at Larnaca airport.
"This aircraft will play a pivotal role in realising a greener, more sustainable travel experience," says Sies.