China's three largest carriers reported a significant jump in domestic passenger traffic in January, as they quickly added back capacity to their networks, following the scrapping of most pandemic restrictions.
In their first traffic results since Beijing abruptly ended its 'zero Covid' policy on 8 January, the 'Big Three' – comprising Air China, China Eastern Airlines and China Southern Airlines – also saw the gradual return of international traffic on the back of borders reopening.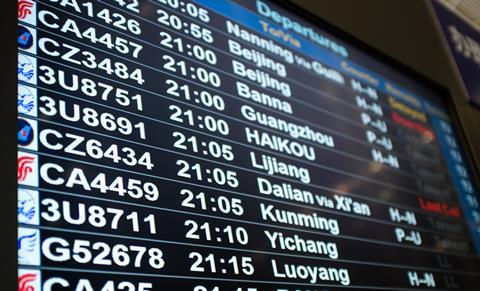 Air China carried close to 6.8 million passengers system-wide in January, a 54% increase year on year, but more than twice the number of passengers flown in December.
Domestic passengers still made up the lion's share of passenger numbers – at about 6.6 million, or a 53% year on year increase. International passenger numbers stood at around 73,000 in January, four times more year on year but still well below pre-pandemic numbers.
Total capacity rose 38% year on year and 96% against December, while total traffic was up 62% year on year, and doubled compared to December.
The Beijing-based carrier doubled domestic capacity from December, while international capacity largely remained the same month on month.
Compatriot China Eastern, meanwhile, carried 6.9 million passengers in January, up 37% year on year. International passenger numbers saw the largest jump against 2022's low base: it was up four-fold to nearly 80,000 passengers.
System-wide capacity rose 17% year on year, with international capacity up more than two-fold. The Shanghai-based carrier also increased domestic capacity by about 14% year on year.
Traffic, meanwhile, was up almost 43% year on year, led by a trebling of international traffic.
As for China Southern, it carried 9.4 million passengers across its network, more than double compared to December, and a 41% increase year on year.
Domestic passenger numbers – at 9.2 million – was double the volume reported in December, and was up 39% year on year.
China Southern reported a 25% increase in total capacity year on year, with domestic capacity up 22% and international capacity double compared to January 2022.
Against December, total capacity increased 92%, with domestic ASKs seeing the largest jump, up two-fold.
The Guangzhou-based carrier saw traffic rise 45% year on year, with international RPKs nearly tripling against 2022 levels.
Despite indications of traffic recovery, the 'Big Three' still expect to be in the red in 2022, where they bore the brunt of 'zero Covid' restrictions. The three carriers are forecast to plunge to their worst-ever net losses for the year to 31 December 2022.