UK budget carrier EasyJet is looking to reinforce its fleet with the lease of older Airbus A320s which would be delivered by the end of this year.
The airline says it has a commitment to lease 11 mid-life A320s up to the first quarter of its 2023-24 fiscal year, which runs to the end of December.
It took its fleet from 320 to 328 aircraft over the first half of its current fiscal year – the six months to 31 March – with the delivery of five new A320neos, and the acquisition of three older leased A320s.
Four aircraft, comprising two A320s and two A319s, were withdrawn following lease expiry but EasyJet re-introduced an A319 as well as three aircraft which had been held on a zero-rental agreement.
Two of the five A320neos had been delivered some two years ahead of their original schedule, and the carrier says it has accelerated two more which will arrive next fiscal year.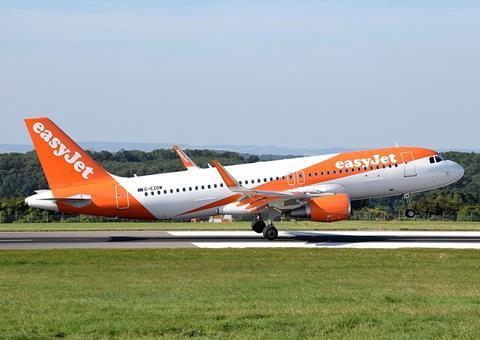 EasyJet says two A320neos delivered in March were initially destined for another airline and, as a result, were not in the carrier's configuration.
It says these are being classified as "work in progress" while they are re-configured and they will enter service in summer this year.
EasyJet's order backlog includes 163 firm aircraft – comprising 130 A320neos and 33 A321neos, among them aircraft which were part of a purchase and A321neo conversion deal agreed last year.
"In order to meet our long‐term fleet requirements, we will continue to keep all options under review going forward," the carrier states.
EasyJet expects to take 18 aircraft deliveries in its 2023-24 financial year, 27 aircraft the following year and 28 in the 2025-26 financial year.
Speaking on a half-year results call today, EasyJet chief financial officer Kenton Jarvis says: "The 18 [aircraft] factors in the delays being scheduled for Airbus in 2024 [financial year], but in 2025-26 that is back at our contractual position and we will have to how see the supply chain challenges work through and obviously we will work collaboratively with them."
Jarvis played down any imminent move when asked if the airline was looking at following Ryanair's recent move to bolster its long-term order book. He notes that Ryanair's fresh Boeing Max order covers deliveries beginning from 2027, and that EasyJet already has its requirements for 2027 and 2028. "So when we go again – and we are bound to go again, because you can't not – then it will be the for the 2029 possibly to 2034 window, and obviously we'll be fully engaged when the timing is right for that," he says.