Slot scarcity helped push Ryanair into reaching a deal with Boeing for 737 Max 10s, as group chief Michael O'Leary admits that the airline had to settle for a higher price than it sought.
The airline is taking up to 300 Max 10s with deliveries set to begin in 2027. About half of these will replace older 737s in its fleet, while the rest will be used for expansion.
Boeing has been "tight for slots", said O'Leary, speaking during a 9 May briefing, and the deal resulted from a "meeting of minds".
"[Its] order book is filling up rapidly," he says. "If we didn't move quickly, we might have been looking at later deliveries, 2028-29."
The airline had resumed talks with Boeing on a Max 10 order having previously discontinued negotiations in 2021, citing differences over the price.
O'Leary admits Ryanair "paid more per seat this time round than last time", but adds: "We're still incredibly happy with the deal we've done."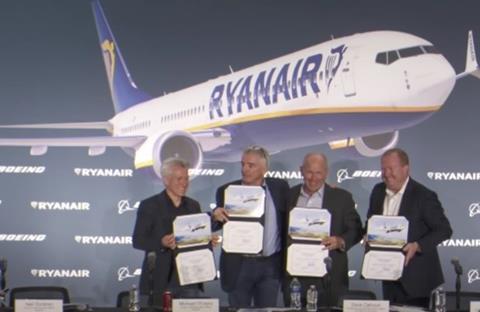 He claims a delivery gap of around 18 months between the last of its 197-seat 737 Max 8-200s and the first of its 228-seat Max 10s will benefit the airline.
"It suits us to take a break for a year," he says, arguing that the pause from a "tumultuous" decade of growth in summer 2026 will present an opportunity to improve operational reliability.
O'Leary adds that it will also reduce capital expenditure and enable the carrier to generate "significant cashflow" which will support the funding of the Max 10 deliveries.
He says the step up to a 228-seat aircraft is a "big challenge" – not least to maintain 25min turnaround times – but points out that the airline is having to compete in Europe with 230-seat Airbus jets, such as those operated by budget carrier Wizz Air.
O'Leary says that this would have been "difficult" if the carrier had stuck to the 197-seat Max 8-200s, but the Max 10 will enable it to "meet and beat Airbus competition". He adds that the 15% higher seat-count provides "huge ancillary opportunities".
Ryanair has "no interest" in using the Max 10s on transatlantic routes, says O'Leary. He insists the long-haul, low-cost operational model "fundamentally doesn't work" and the carrier will instead focus on longer-range services beyond Europe, such as flights to the Middle East.
But he states that the "biggest prize" is to return to Ukraine, claiming that Ryanair – which has been hiring large numbers of Ukrainian pilots and cabin crew – intends to be the first airline to restore services to the country once the conflict is over.
"We'll go back within two weeks of it being declared safe by European authorities," says O'Leary, adding that the airline wants to set up operations in three or four Ukrainian airports.