EasyJet cut pre-tax losses to £411 million for the first six months of its financial year on revenues 80% up year-on-year.
The loss, which covers the seasonally weaker six months to ending March 2023, is within the middle of its guidance issued a month ago and is a narrowing of the £545 million loss it incurred over the previous period.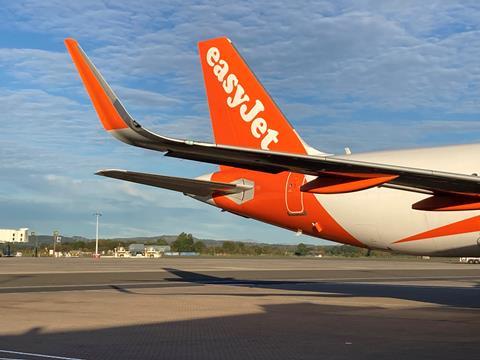 It was achieved on increased activity. EasyJet carried 41% more passengers in welcoming 33 million people over the six months, on capacity increased 25%.
That helped EasyJet lift revenues from just under £1.5 billion to almost £2.7 billion, though that performance was also driven by strong yields and increased ancillary revenues. EasyJet revenue per seat climbed 42% while group ancillary revenues jumped from £513 million to £940 million.
The latter also reflects increased activity in its EasyJet holidays business, which the company says delivered a £10 million profit in the first half and which it expects to make an £80 million profit this year.
EasyJet chief executive Johan Lundgren says: "EasyJet's optimised network combined with the strong demand seen for flights and holidays, enhanced revenue capabilities and operational resilience, means we enter the summer with confidence."
The airline expects revenue per share to be around 20% higher year-on-year in the third quarter and capacity to reach around pre-pandemic levels in the fourth quarter.